Mistrust dogs moves to hold Taliban talks in Qatar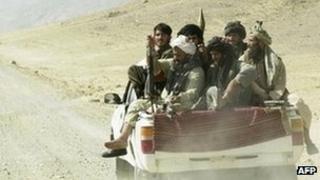 Any talks with the Afghan Taliban are exceedingly difficult, if not dangerous - but the process of forging a coherent approach involving Kabul and its partners is also proving to be tough.
The challenge of pursuing an "Afghan led and Afghan owned" process has again been highlighted by Kabul's sudden decision to pull its ambassador from Qatar.
An official statement from the Afghan Foreign Ministry said the Ambassador in Doha, Khalid Ahmad Zakaria, was being recalled "in light of recent developments in Afghanistan and the region, including the relationship between the two countries".
The move comes at a time when key allies like the United States, Germany and the United Nations had hoped to reach an agreement before the end of this year to establish an office for talks in the Qatari capital.
The office is meant to provide what is called an "address" outside the immediate region to hold any discussions in a protected venue.
A senior Afghan government official told the BBC the "Qataris have been discussing the issue of an office in detail with the Americans and the Germans without keeping the Afghan government fully in the picture".
He insisted the Afghan government supported the idea of an office "as long as it is not seen as a concession to the Taliban".
After months of serious setbacks to a still controversial process of reconciliation with the Taliban and other armed groups, the establishment of an office was being seen as a significant step to help provide some momentum.
Countries most involved in this sensitive and secretive process had spoken for months of a possibility it could be announced at the recent international conference on Afghanistan in the German city of Bonn.
A senior Western diplomat expressed disappointment that it had not been. "It could have been the big headline of the Bonn Conference," he regretted.
Sources say Afghan President Hamid Karzai and some of his key aides still had reservations about the venue and its objectives. Senior Afghan officials say there were never any plans to announce the opening of an office during the Bonn meetings in early December.
Doha may still emerge as the "address" but discussions on an office have brought other differences to a head. Qatar does not even have an embassy in Kabul - a concern that has been raised for months by the Foreign Ministry here. One source said Doha's reply is "we don't have enough diplomats" - an answer that has not satisfied the Afghans.
Afghanistan's allies, including senior US officials, repeatedly insist this process is and will be "Afghan led and owned". But they express frustration with the absence of a consistent and comprehensive approach from Kabul and the many Afghan individuals and institutions involved in this process.
Pakistan role
The assassination in September of Burhannudin Rabbani, who headed the High Peace Council, also raised questions about Taliban commitment to talks and divisions within the Taliban leadership council, often referred to as the Quetta Shura. The Taliban denied they carried out the attack.
The murder in Kabul, which also seriously injured the president's adviser on reconciliation, Masoom Stanakzai, added further strain to tense relations between Islamabad and Kabul.
The extent of Taliban commitment to talks remains unclear, although some senior figures in the movement are believed to back the establishment of an office. They include Tayyab Agha, an aide to Taliban leader Mullah Omar, known to have engaged in talks with US officials with German and Qatari mediation.
Former senior Taliban members now living in Kabul have long backed an "address". When it was first given public backing at the Afghan peace jirga in Kabul in June 2010, former Taliban ambassador Abdul Salam Zaeef called it the most important decision of the jirga. He is one of three former Taliban figures being mentioned as possibly heading any new office.
Taliban figures like Zaeef have pushed this idea mainly because of concern that Pakistan is blocking access to Taliban leaders living in the country who may want to reach out.
Afghan officials also express frustration that months of trying to engage Pakistan have brought little result. The Afghan government has repeatedly asked for access to senior Taliban commander Mullah Abdul Ghani Baradar who has been in Pakistan custody for nearly a year.
Pakistan's decision to boycott the Bonn Conference after Nato's accidental killing of 24 Pakistani soldiers at a border checkpoint created additional tension.
Pakistani officials insist they want to work with Afghanistan and other partners. They frequently accuse Kabul of engaging in a "blame game".
Officials in Islamabad often say they are not being kept informed by Washington and Kabul despite repeated assurances that Pakistan will play a role in any negotiating process.
President Karzai has often said the only party really worth talking to is Pakistan, which he has long accused of giving sanctuary to Afghan Taliban leaders plotting attacks against Afghanistan, a charge Islamabad denies.
It's a complex process marked by suspicion and misunderstandings on all sides, even before any significant talks with the Taliban have even begun.