Kyrgyzstan profile - Overview
24 February 2015

From the section

Asia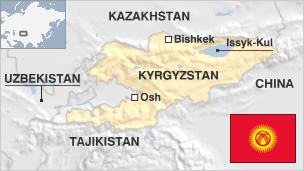 A Central Asian state bordering China, Kyrgyzstan became independent with the collapse of the Soviet Union in 1991.
It has some oil and gas and a developing gold mining sector, but relies on imports for most of its energy needs.
Resentment at widespread poverty and ethnic divisions between north and south have spilled over into violence, and the country's first two post-Soviet presidents were swept from power by popular discontent.
Instability
Settled by Kyrgyz tribes from southern Siberia in the 17th century, the area was ruled by various regional powers before coming under Russian, and then Soviet, rule.
Kyrgyzstan's democratic credentials were regarded as relatively strong in the immediate post-Soviet era, but under President Akayev - who led the country after independence - corruption and nepotism took and democratic freedoms were diminished.
In 2005, allegations of election rigging turned simmering dissatisfaction into a popular revolt that swept President Akayev from power.
Mr Akayev's successor, Kurmanbek Bakiyev, failed to do much better, however, and his time in office was marred by political instability, an almost constant power struggle with parliament and a curtailment of civil liberties. Civil tensions again came to a head in April 2010, and Mr Bakiyev himself was toppled.
A 2010 constitutional referendum curtailed the president's power in favour of the prime minister, and since then Kyrgyzstan has been ruled by multi-party coalitions. Its relatively democratic nature stands out in a region dominated by autocrats.
The Kyrgyz make up nearly 70% of the population, with Uzbeks accounting for about 15% and concentrated in the Ferghana Valley in the south. Russians have a significant presence in the north and in the capital, Bishkek.
Ethnic tension
There is tension between the Kyrgyz and Uzbek communities in the south over land and housing, and this has sporadically erupting into violence in the southern city of Osh, notably in 1990 - when hundreds were killed - and again in June 2010 following the overthrow of President Bakiyev. Osh had been a Bakiyev stronghold.
Most of the population of Kyrgyzstan is nominally Muslim, and there has been a growing interest in Islam among those seeking a new ethnic or national identity.
The government is worried about inroads by jihadist groups like Hizb-ut Tahrir, and there have been periodic outbreaks of fighting in the south.
Kyrgyzstan has featured in US-Russian rivalry for control of Central Asia, and various Kyrgyz leaders have proved adept at playing the country's competing allies off against each other, although more recently, Russia appears to have gained the upper hand.
For 12 years, the country was unique in the world in hosting both US and Russian military bases.
But in 2014, the US closed its air base - established in 2001 to support operations in Afghanistan. President Almazbek Atambayev had refused to renew the lease after Russian President Vladimir Putin agreed in September 2012 to write off Kyrgyzstan's debt to his country.
At the same time Mr Atambayev agreed to a 15-year extension to Moscow's lease on the Kant air base.