Gujarat police killing of Ishrat Jahan was 'staged'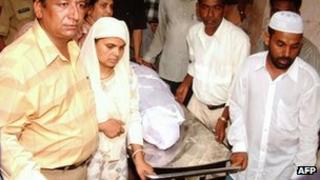 A female student and three others were killed in a "staged" clash in India's Gujarat state, a special panel formed by the high court has found.
Ishrat Jahan was among the four people shot dead by police in 2004 on suspicion of being part of a banned Pakistan-based militant group.
The panel concluded that the victims were killed in a staged clash, commonly known as "fake encounters".
Police in Gujarat have always denied the allegation.
They have said the victims were members of the banned Pakistan-based militant group Lashkar-e-Taiba and were involved in a plot to kill the chief minister of Gujarat, Narendra Modi.
The three-member Special Investigation Team, headed by senior police officer Rajiv Ranjan Verma, submitted its final report to the Gujarat high court on Monday.
The report says that evidence gathered during the course of the investigation suggests that the victims were actually killed before the date of the alleged clash on 15 June 2004.
The court told the investigating agency to lodge a fresh case and charge the policemen involved with murder.
Some reports said nearly two dozen policemen, including several senior officials, were involved in the killings.
'Name cleared'
Ishrat Jahan's mother, Shamima Kausar, has always maintained that her daughter was innocent.
"My daughter's name has now been cleared," she said.
In 2009, a judicial probe into the incident also blamed the police for staging the killings killings.
The inquiry named a senior Gujarat police officer, among others, in connection with the "cold-blooded murder" of the student and three others.
The probe by judge SP Tamag said that police had "kidnapped" the student and three others in the city of Mumbai.
They were then taken to Ahmedabad, Gujarat's main city, and killed in "police custody", the probe said.
The four were driving near Ahmedabad airport when they were picked up.
Later police in Mumbai said the student had no criminal background and had never been involved in any terrorist activity, as claimed by the police in Gujarat.
Human rights groups have repeatedly expressed concerns about so-called "fake encounters" whereby security forces are accused of unprovoked killings, which are later passed off as clashes.