Australia profile - Media
1 December 2014

From the section

Asia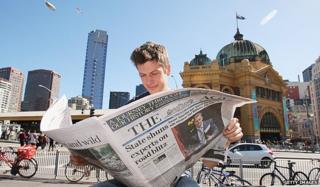 Australia's media scene is creatively, technologically and economically advanced. There is a tradition of public broadcasting, but privately-owned TV and radio enjoy the lion's share of listening and viewing.
Ownership of print and broadcast media is highly-concentrated. For example two companies - the Murdoch-owned News Corp Australia, and Fairfax Media - account for some 85 per cent of newspaper sales.
The Australian Broadcasting Corporation (ABC) runs national and local public radio and TV. The other main public broadcaster is the Special Broadcasting Service (SBS), whose radio and TV networks broadcast in many languages. Australia Network is an external TV service for the Asia-Pacific region.
National commercial TV is dominated by three large networks. Commercial broadcasters have to carry a minimum percentage of Australian-made programming. Pay-TV services have gained a substantial foothold. Digital TV is available via satellite, cable and terrestrially.
Sport, news, game shows, imported and home-made dramas top the TV ratings in Australia. The industry has successfully exported some of its productions to English-speaking markets overseas.
Around 19.5 million Australians are online (InternetWorldStats, December 2013). Governments of various political hues have in recent years floated proposals to introduce internet filtering on the grounds of copyright protection or protecting minors from harmful content, but the idea has proved to be controversial and has made little headway.
The press
Television
Radio
News agency/internet