Nigeria PDP crisis: President Jonathan's ally Tukur resigns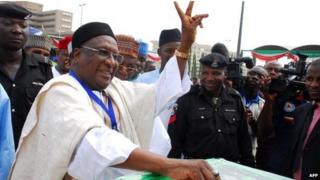 A close ally of Nigeria's President Goodluck Jonathan, Bamanga Tukur, has resigned as chairman of the governing People's Democratic Party (PDP).
He had been under pressure to resign after the defection of several powerful PDP governors to the opposition.
Mr Jonathan said the resignation should settle divisions in the party.
Correspondents say the crisis in the PDP has centred around Mr Jonathan's undeclared intention to contest elections in 2015.
His leadership has recently come in for high-profile criticism from within the party.
'Number one party'
At a national executive committee meeting of the PDP on Thursday, the president said that Mr Tukur was stepping down so the party could try to heal its divisions.
"We have some internal problems that have been agitating the mind of the people... For us to make sure that we rest these issues, the party chairman agreed to step aside," Reuters news agency quoted Mr Jonathan as saying.
Last month, the PDP lost its majority in the lower chamber of parliament when 37 of its MPs defected to the opposition All Progressives Congress (APC) party.
This followed the defection in November of a influential faction of state governors, leaving the PDP with fewer governors than the opposition.
According to AFP news agency, the president assured party leaders in his speech that these party defections were nothing to worry about and by the end of March the internal crisis would be over.
"As long as we do things the way we should do, I believe, and I'm convinced, that [the] PDP will continue to be the number one party in this country," he was quoted as saying.
Last month, ex-President Olusegun Obasanjo, a PDP member, called on Mr Jonathan not to seek re-election, accusing him of failing to tackle Nigeria's many problems - including the Islamist insurgency, poverty and corruption.
The president was angered by the criticism, denying the allegations in an open rebuttal letter.
Mr Jonathan moved from the vice-presidency to the presidency in 2010 after his predecessor, Umaru Yar'Adua, died in office.
He won presidential elections the following year.
The PDP has won every national election since the end of military rule in 1999.