Mandla Mandela charged over South Africa 'road rage'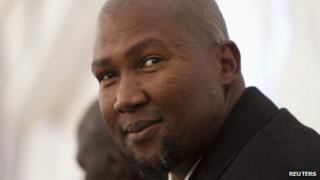 Nelson Mandela's grandson Mandla has been charged with assault, according to the local public broadcaster, SABC.
Mr Mandela allegedly assaulted a teacher and pointed a firearm at him after he crashed into a car driven by one of his friends late last year.
His case was postponed to 24 February after he made a brief appearance in the Mthatha Regional Court.
Chief Zwelivelile, as he is known, inherited his grandfather's position as traditional ruler.
Senior Public Prosecutor Jongikhaya Busakwe presented a docket detailing two charges that include serious assault, or assault with intent to do grievously bodily harm as it is known in South Africa, and another charge of pointing a firearm, reports the South African Broadcasting Corporation (SABC).
Mr Mandela, 39, who is not in custody, allegedly drew a firearm after an altercation with Mlamli Ngudle, who reportedly crashed his car into a car driven by one of Mr Mandela's guests at a function.
He is yet to plead but his defence attorney, Advocate Kenny Oldwage, asked the court for a postponement, saying they had only received the docket on Thursday morning and need more time to scrutinise its contents.
Mr Mandela is the chief of the Traditional Council in Mvezo, where his grandfather was born.
Mr Mandela and his aunt Makaziwe are vying to be recognised as head of the Mandela family. He is the eldest male descendent, while she is Nelson Mandela's eldest surviving child.
Last year, they fought a bitter court battle over where several members of the family should be buried.