Mandela memorial: From 'rainbow nation' to 'rain boo nation'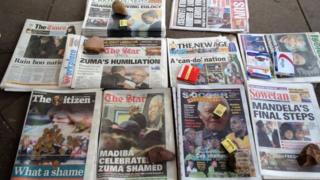 President Jacob Zuma's booing at the Nelson Mandela memorial is a topical issue here in South Africa, with local media leading with headlines such as "Rain boo nation".
Calling this the "beginning of the end" of Mr Zuma's presidency would be overstating it - but it was humiliating.
Mr Zuma sat quietly with a stern look on his face as several thousands of people booed each time his face appeared on a big screen at Johannesburg's FNB Stadium during Mr Mandela's rain-drenched state send-off.
The heckling crowd had to be called into order a number of times, and Mr Zuma managed to deliver his factual but unmoving speech.
The address was a disappointment for those who were hoping he would use the opportunity to speak from the heart, to tell the world about his friend and comrade.
He got a few cheers in the end, which I would imagine pleased him.
'Embarrassment in front of visitors'
Still, being booed in front of world leaders including US President Barack Obama, who got the loudest applause of all the day's speakers, could not have been fun.
The master of ceremonies and African National Congress deputy president Cyril Ramaphosa, speaking in Zulu, told the crowd "not to cause an embarrassment in front of visitors".
While Archbishop Desmond Tutu called for silence, the kind where you could "hear a pin drop" - there was no such silence but eventually the booing stopped.
Mr Zuma had the enormous task of hosting a fitting tribute to the man Mr Obama described as "a giant of history".
This was supposed to have been his shining moment, the day he cemented his legacy as the man who buried South Africa's most loved citizen - now a missed opportunity.
His role in the affair has instead been overshadowed by South Africans' views on the chilly response he received.
Callers took to local radio stations and social networking sites to air their views.
Some thought it was inappropriate, especially at a gathering to honour Mr Mandela.
But others thought it was testimony to Mr Zuma's leadership - or lack thereof.
The ANC, especially in the days of Mr Mandela, was renowned for being disciplined.
When party members did not agree or even like each other, they were always expected to respect the position held by a fellow comrade.
Most of all they were expected to always respect their leaders.
'People's person'
We do not know, of course, that the people who took a swipe at Mr Zuma were ANC members.
But what we do know is that it could not have been easy for the governing party to see the man who is supposed to win them next year's election treated with hostility.
Mr Zuma's crowning glory has always been that of being a "people's person" - a man who can relate to the struggles of the poor.
That is the vote the ANC needs in order to stay in power; it is also the same electorate that new parties - like the Economic Freedom Front lead by sacked ANC youth leader Julius Malema - are gunning for.
So it is an important election for the party, and their leading man is bruised after a number of recent scandals.
This year alone there has been controversy over the upgrade to Mr Zuma's private residence in Nkandla, a village in KwaZulu-Natal.
The state spent 206m rand ($19.8m; £12m) of taxpayers' money to pay for security upgrades which were initially supposed to cost about 20m rand.
Details have emerged in recent months that said security upgrades included an expensive swimming pool, a kraal for his livestock, a shop for his first wife, a clinic inside the premises and entertainment area for his guests.
Now his party has been hard-pressed to explain that items made it onto the "security" list. Strike one.
'Mandela's ANC'
Strike two? The contentious new e-tolling system installed on the highways in the powerful Gauteng province, home to the capital Pretoria and the commercial hub of Johannesburg.
The government borrowed 30bn rand to build the state-of-the-art system in time for the 2010 football World Cup and now wants motorists to repay the massive bill.
Many say they were not adequately consulted about the process.
Others are asking how the government can afford to spend millions on one man, but refuse to foot the bill on a project which is supposedly benefiting the millions that use the province's roads every day.
Mr Zuma has raised the ire of many South Africans, including some within the governing party, before.
Yet come elections, many people will remain loyal to the ANC - some even instinctively call it "Mandela's ANC".
They remain loyal to what the party represents - the liberation of millions of black South Africans from the hands of a minority of white people.
However, loyalty is not limitless.
Could this see him ousted as ANC leader after secret meetings in the dead of night, as happened to former President Thabo Mbeki in 2008?
As South Africans prepare to bury Mr Mandela, the booing may force the party to take a closer look at the man leading its bid to remain in power and ask: "Could this man cost us the Mandela legacy?"