Ugandan LRA rebels surrender in CAR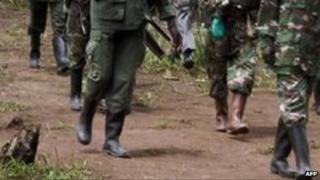 Nineteen fighters from Uganda's Lord's Resistance Army (LRA) have surrendered following an offensive against the rebel group in the Central African Republic (CAR), the Ugandan army says.
Six children were among those who gave themselves up, the army said.
The LRA was forced out of Uganda in 2005 and since then has wreaked havoc in CAR and other neighbouring states.
The group says its mission is to install a government in Uganda based on the Biblical Ten Commandments.
It is notorious for abducting children to serve as sex slaves and child soldiers.
'Operation Monsoon'
The US has listed it as a terrorist group and has offered up to $5m (£3.3m) for leads resulting in the arrest of its leader, Joseph Kony.
It has about 100 special forces working alongside some 3,000 regional troops trying to hunt down Mr Kony and his fighters in CAR, the Democratic Republic of Congo. and South Sudan.
The troops are operating under an African Union (AU) mandate.
In a statement, the AU said "Operation Monsoon" was launched in August, resulting in the destruction of several LRA camps in CAR and DR Congo.
Ugandan army spokesman Paddy Ankunda said the LRA had been "greatly degraded" in CAR.
The latest group to surrender would be repatriated to Uganda, he said, in a statement published in the state-owned New Vision newspaper.
The children had had "initial psycho-social rehabilitation", Lt Col Ankunda added.
The army remained "open-handed to receive LRA defectors who abandon violence", he said.
Ugandan troops were forced to temporarily suspend operations against the LRA in CAR in April.
This followed the overthrow of CAR President Francois Bozize in a rebellion led by Michel Djotodia.
Last month, Mr Djotodia said Mr Kony was negotiating his transfer.
However, AU and US officials cast doubts on his claim.