Nelson Mandela death: Irish strikers to attend funeral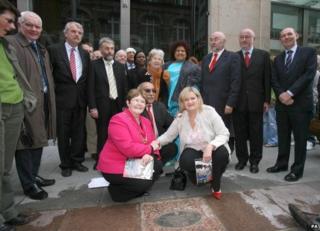 Irish supermarket workers who went on strike to force a ban on produce from apartheid-era South Africa are set to attend Nelson Mandela's funeral.
Eleven workers at Dunnes Stores in Dublin began one of the longest strikes in trade union history after a cashier was suspended in 1984 for refusing to handle goods brought from South Africa.
Their three-year action ended in an Irish government ban on imports.
Mandela met the former strikers on a visit to Dublin in the early 1990s.
South Africa's first black president died at the age of 95 on Thursday.
Mary Manning, the cashier whose action at the age of 21 sparked the strike, was commemorated along with her fellow protesters with an official plaque in the Republic of Ireland's capital five years ago.
The plaque was presented by Mandela's successor as president of South Africa, Thabo Mbeki.
Ms Manning also has a street named after her in Johannesburg.
'An inspiration'
In an interview with Irish state broadcaster RTE after Mandela's death, she said: "The world has lost a great man.
"So many admired what he was doing or what he did, and when he got out of prison, to then become elected president of the country and to be such a dignified man and his manner, and his way of dealing with people.
"He wasn't bitter about what had happened to him. I think he's an inspiration to everybody."
Ireland's Mandate said it and other trade unions were in the process of arranging for the attendance of the former strikers at the funeral on Sunday 15 December.
Mandate general secretary John Douglas said: "The trade union movement believes it would be a fitting tribute from the Irish trade union movement to send the Dunnes Stores strikers, who took such a brave stance on the issue of apartheid, to the funeral of Mr Mandela in South Africa."
Irish President Michael D Higgins and his wife Sabina are due to attend a memorial service for Mandela at the FNB stadium in Johannesburg on Tuesday.