Benghazi brigade detains foreigners over bombings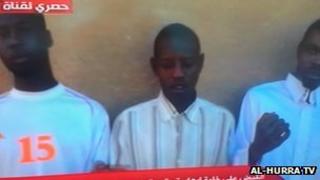 A brigade of former rebels in the Libyan city of Benghazi has detained several people they say carried out recent car bombings in the city.
Most of those held are foreigners, including several from Chad.
But a military source told the BBC that the brigade had no official authority, and had made the arrests in an effort to show that it could provide security.
Benghazi has seen frequent bombings and assassinations since Muammar Gaddafi was toppled in an uprising in 2011.
Libya is due to mark the second anniversary of the former leader's fall on Wednesday.
'Propaganda'
The arrests were made on Monday by the Martyrs' brigade of Libya, said Abdullah al-Zaidi of the Benghazi Joint Operations Room - a security force set up jointly by the ministries of defence and interior.
The brigade is essentially a militia made up of former rebels against Gaddafi's rule, the BBC's Rana Jawad reports from the capital, Tripoli.
Mr Zaidi said those held were part of a network and that they had confessed to at least 15 car bombings in the eastern city.
A local TV station showed three people reported to be from neighbouring Chad standing against a wall following their detention. They were said to be mercenaries recruited by Gaddafi supporters.
Mr Zaidi has given conflicting accounts on the number of people arrested and their nationalities in the past 24 hours.
The Libyan military source, who spoke on condition of anonymity, called the arrests a "theatrical act".
"These armed groups are trying to show that... they can replace the army," he said. "They sacrificed migrant workers for their propaganda.
"Most of the perpetrators of these attacks are known to us and by the people, but the officials don't want to say... There is a fear of announcing who is behind all this."
No-one has yet said they carried out the recent attacks in Benghazi. On average, there has been one attack every week.
On social media, some Libyans suggested that the arrests might be a cover up for local groups, including hardline Islamists who are widely suspected of being responsible for much of the violence.