Tunisia leaders forced to quit police ceremony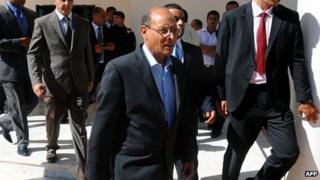 Angry members of Tunisia's security forces have driven President Moncef Marzouki and Prime Minister Ali Larayedh from a memorial ceremony for two policeman killed by militants.
Protesters, some in uniform, shouted "go away" at the leaders during the ceremony at a Tunis military barracks.
The leaders left after being jeered, without making any speeches.
The BBC's Sihem Hassaini in Tunis says security forces are angry, feeling they lack the resources to combat jihadists.
They have been battling militant forces in the remote Mount Chaambi region, along the Algerian border.
The ceremony on Friday was for two men killed on Thursday by an armed group in the Beja region, 70km (40 miles) west of the capital Tunis.
Many of the demonstrators carried placards demanding laws to protect the police.
"We will not accept the presence of politicians," shouted one of the protesters, the AFP news agency reports.
Parliamentary speaker Mustapha Ben Jaafar was also reported to have been driven away by the crowd.
However, Interior Minister Lotfi Ben Jeddou did manage to make a brief speech. Correspondents say he is relatively new in office and seen as being tough on Islamist militants.
He told the crowd: "We are all against terrorism. This is a war, and we will not give up."
Our correspondent says there is considerable public anger over the killing of the police officers, which follows the deaths of eight soldiers in July.
In December, President Marzouki and Mr Ben Jaafar were forced to flee from a ceremony in the central town of Sidi Bouzid to mark the two-year anniversary of the revolution.
On that occasion, protesters heckled them and pelted them with stones, saying the government had failed to improve their living conditions.
A coalition led by the moderate Islamist Ennahda party was elected in 2011, after street protests toppled long-time leader Zine al-Abidine Ben Ali - the first leader ousted during the "Arab Spring".
Some government critics accuse it of being soft on hardline Islamist forces - charges it strongly denies.