South Sudan's Salva Kiir excludes Riek Machar from cabinet
1 August 2013

From the section

Africa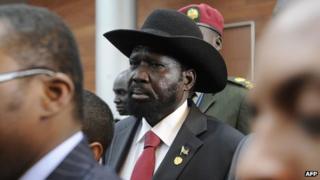 South Sudan's President Salva Kiir has appointed a new smaller cabinet after sacking his entire previous team last week, a state decree says.
However, he is yet to fill the key post of vice-president after ousting Riek Machar from the post.
The dismissal of the cabinet followed an apparent power struggle between Mr Kiir and Mr Machar.
Oil-rich South Sudan became independent in 2011, making it the world's youngest country.
Numerous armed groups remain active in the country.
'Feared commander'
The US expressed concern that the cabinet's dismissal could threaten South Sudan's stability.
Mr Kiir's office said he had acted to promote efficiency and good governance.
The BBC's Nyambura Wambugu reports from the capital, Juba, that Mr Kiir may want to gauge public reaction to his appointments before choosing a new vice-president.
Mr Kiir appointed the governor of the violence-hit Jonglei state, Kuol Manyang, to the key post of defence minister.
He was a feared guerrilla commander during the decades-long rebellion against Khartoum's rule.
More than 100,000 people have fled their homes in Jonglei in recent months, fleeing bitter rounds of ethnic violence and battles between the army and rebels.
Many people she spoke to see the new cabinet as a reflection of loyalty to the president, our reporter says.
Those seen to be critical of Mr Kiir have not been reappointed, including Pagan Amum, former head of the governing Sudan Peoples' Liberation Movement (SPLM), she adds.
Some see this as a blessing for South Sudan because it might push the ejected ministers and their deputies to form a formidable political block that can stand up to the SPLM, our reporter adds.
After his dismissal, Mr Machar said he planned to challenge Mr Kiir for the leadership of the SPLM so that he can run for president in the 2015 election.
Mr Kiir slashed a third of the posts in the cabinet, appointing 10 ministers, AFP news agency reports.
He retained Stephen Dhieu Dau as oil minister, but rung the changes in most other portfolios, it adds.