Mali's Tiebele Drame withdraws from election
17 July 2013

From the section

Africa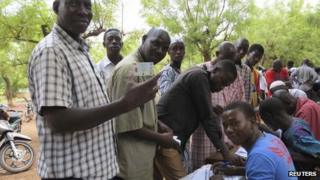 A presidential candidate in Mali who had called for the 28 July elections to be delayed has withdrawn from the race.
Tiebele Drame said his party's application to the Constitutional Court to postpone the vote had been met by a "deafening silence".
He said the electoral process was flawed and Mali needed more time to recover from last year's coup.
France intervened in January to oust Islamist militants who had taken over the north in the wake of the coup.
Military officers staged the putsch in March 2012 - a month ahead of scheduled elections - accusing the government of failing to end a Tuareg rebellion in the north.
The Tuareg rebels were allied with al-Qaeda-aligned groups, but the alliance quickly crumbled with the Islamists occupying major cities such as Gao, Kidal and Timbuktu where they imposed a strict form of Islamic law.
Mr Drame, from the Parena party, told journalists in the capital, Bamako, that he had decided to pull out of the race as the voting process was flawed and thousands of people had been excluded from the electoral roll.
Correspondents say Mr Drame was not one of the leading presidential candidates - there are another 27 on the ballot.
But he is a respected long-time human rights activist and was a negotiator in the recent Tuareg peace deal, which saw Mali's army re-enter the northern town of Kidal earlier this month.
Tuareg rebels captured Kidal after the French-led offensive.
A 12,600-strong UN peacekeeping force has been deployed to Mali to ensure stability in the lead-up to the nationwide vote.
The force - known by its French acronym Minusma - incorporates most of the 6,000 West African troops who had deployed to help the French operation.