Somali capital Mogadishu hit by 'suicide attack'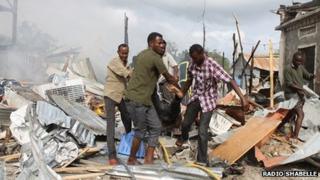 At least five people have been killed in a suicide attack targeting African Union peacekeepers in the Somali capital, Mogadishu, witnesses say.
A witness told the BBC he had seen the bodies of five civilians after a car exploded.
The AU has confirmed that two of its soldiers were wounded in the attack on one of its armoured vehicles which was on its way to the airport.
The al-Qaeda-linked group al-Shabab has said it carried out the attack.
Its fighters were forced from its bases in the city two years ago but they have carried out hit-and-run bombings since then.
Ahead of Ramadan, which began on Wednesday, the government warned the public that the Islamist militants tend to be more active during the holy Muslim fasting month.
'True colours'
Last month, at least 15 people, including four foreigners, were killed in an al-Shabab assault on a heavily guarded UN office in Mogadishu.
The vehicle which exploded on Friday was in the same area of the capital, not far from the airport and several blocks away from the UN office.
A witness in the area told the BBC Somali Service the vehicle exploded in front of roadside shops.
Somali Prime Minister Abdi Farah Shirdon said the car bomber was targeting a vehicle belonging to the AU force, known as Amisom, on the road to the airport and several civilians had been killed and wounded.
"Once again the enemies of peace show their true colours to the world - Muslims killing Muslims in the holy month of Ramadan," he said in a statement.
"Our Somali security forces are stepping up operations to prevent such attacks and we will leave no stone unturned to keep our people safe."
On pro-al-Shabab websites, the Islamist group said it targeted the convoy because a number of US officials were travelling in it.
"We are behind the martyrdom explosion... The Americans were our main target," its spokesman Abdiasis Abu Musab told Reuters news agency.
Amisom spokesman Col Ali Aden Houmed said the force had suffered "two minor injuries".
"This is not something that can stop Amisom from stabilising Somalia,'' AP news agency quotes him as saying.
Al-Shabab is fighting to create an Islamic state in Somalia - and despite being pushed out of key cities in the past two years still remains in control of smaller towns and large swathes of the countryside.
Some 18,000 African Union troops are in Somalia supporting the government of President Hassan Sheikh Mohamud, who was elected by MPs last September.
His administration is the first one in more than two decades to be recognised by the US and the International Monetary Fund (IMF).