Nigeria cattle feud: Villagers killed in Plateau state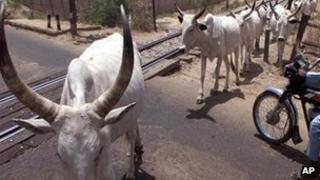 Gunmen in central Nigeria have attacked three villages killing at least 28 residents in a feud over cattle, a military spokesman has told the BBC.
Capt Salisu Mustapha said the security forces responded, killing 20 gunmen.
He said Fulani herdsmen were thought to be behind the attack on the Taroh community in Plateau state after hundreds of their cattle were stolen.
Two villages in a nearby Fulani and Hausa community were subsequently burnt and the residents had fled, he said.
The BBC's Ishaq Khalid in Jos, the capital of Plateau state, says disputes over cattle and pasture often raise ethnic tensions.
But an attack of such ferocity is unusual in the remote area, which is about 240km (150 miles) south of Jos, he says.
A Fulani spokesman in the area denied the military's allegations that the mainly Muslim community was involved in the attack.
Sanihu Jauro said that about 1,000 head of cattle had been stolen earlier this week from Fulani herdsmen and repeated complaints to the authorities had failed to elicit help.
About 500 cattle had been recovered by the community, but the rest were still missing, he told the BBC Hausa Service.
However, the authorities say they are making efforts to recover the animals.
The villages of Karkashi, Bolgang and Magama, which came under attack from the gunmen on Thursday, are populated by mainly Christian Taroh.
Mark Lipdo, from the Christian charity Stefanos Foundation, told Nigeria's Leadership newspaper that the attackers followed their victims on motorbikes as they tried to escape.
Capt Mustapha said the security forces sent reinforcements to the area after the attack, which lasted for several hours.
He said two gunmen involved in the attacks had been arrested.
It was not clear how many homes had been burnt in what looked like a retaliatory attack on the neighbouring villages of Yamini and Ajikam, populated by mainly Hausa and Fulani people, or if anyone was hurt, the army spokesman said.