Benghazi blast an 'accident', Libya ministers say
14 May 2013

From the section

Africa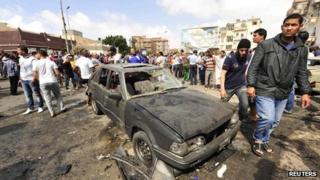 A blast outside a hospital in the Libyan city of Benghazi on Monday might have been an accident, ministers say.
The government initially said that a car bomb exploded in a "terrorist act" that killed three people.
But on Tuesday, Interior Minister Ashur Shwayel said "all the signs point to an accidental" blast, in a car transporting explosives.
Security remains precarious in Libya since the uprising against long-time leader Muammar Gaddafi.
Benghazi was the cradle of the revolution that led to Col Gaddafi being killed in 2011.
'Anti-tank mines'
Since then, Libya has been hit by a wave of bombings - often blamed on militant Islamists or Gaddafi loyalists - and battles between rival militias who fought the ousted regime.
Justice Minister Salah al-Mirghani said it was "too early to draw any conclusions" about Monday's car explosion.
"Even if it was detonated accidentally [by those inside] as it was heading somewhere else, or whatever the reason - it is not normal to be driving around with explosives like that," he told the BBC from Benghazi.
"The city was terrorized, a 16-year old died, investigations need to be concluded. There are two unidentified bodies, but we also have not concluded whether they were the ones in the car or not."
He said he could not discount reports that the explosives might have been transported by fishermen, who often use such material to catch fish.
A report by an explosive expert from Libya's ministry of defence said a grey Mazda exploded while it was travelling with material used to make anti-tank mines, says BBC Libya correspondent Rana Jawad.
In the immediate aftermath of the blast, government officials and eyewitnesses said a grey Toyota parked near the hospital exploded.
Angry crowds protested at the scene, blaming militants for the bombing and urging the authorities to drive them out of the city.
Many demonstrators chanted "Rise, Benghazi!"
There were wildly conflicting reports on casualty figures, with Deputy Interior Minister Abdallah Massoud saying that up to 15 may have been killed and at least 30 wounded.
On Tuesday, the health ministry, said it reached a "definitive toll" of three dead and 14 wounded in the explosion.
At least three police stations were bombed in Benghazi last week - causing damage but not casualties.
Earlier this month, the UK said it had withdrawn some of its embassy staff in Libya because of "ongoing political uncertainty".