Congo: Pakistani UN peacekeeper killed in ambush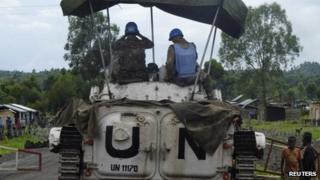 A Pakistani UN peacekeeper has been killed in an ambush in Democratic Republic of Congo, the UN has said
A UN convoy was attacked by unidentified assailants in the eastern South Kivu province on Tuesday evening, UN spokesman Martin Nesirky said.
UN chief Ban Ki-moon condemned the attack, saying that killing a peacekeeper was a "war crime".
Some 19,000 UN troops are in DR Congo where various armed groups operate in the restive mineral-rich east.
Mr Ban condemned "in the strongest terms the killing of a Pakistani peacekeeper", Mr Nesirky, spokesman for the UN secretary general, said in a statement.
"He [Mr Ban] recalls that the killing of peacekeepers is a war crime that falls under the jurisdiction of the International Criminal Court," Mr Nesirky said.
The UN secretary general called on the DR Congo government to "bring the perpetrators of this crime to justice", he added.
In March, the UN Security Council approved plans to send a 2,500-strong brigade to eastern DR Congo to "neutralise and disarm" rebel groups.
The most recent uprising, by the M23 rebel group, began a year ago in North Kivu region, leading to some 800,000 people fleeing their homes.