ANC defends Nelson Mandela visit and video footage
30 April 2013

From the section

Africa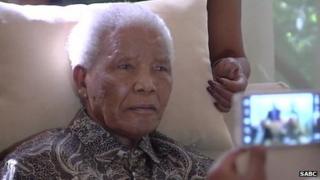 South Africa's governing African National Congress (ANC) has defended its filmed visit to Nelson Mandela, saying it was not a "publicity stunt".
They were the first pictures of the former South African president since he left hospital on 6 April after more than a week of treatment for pneumonia.
Looking dazed, he is seen surrounded by ANC leaders and well-wishers.
An ANC spokesman said the party was happy to share the 94 year old with "the world, even in his frail state".
The rare video footage of Mr Mandela, popularly known by his clan name "Madiba", was broadcast by South African public broadcaster, SABC.
The BBC's Milton Nkosi in Johannesburg says there has been an outcry on social media - especially Twitter, where the topic is trending - about the broadcast of the video.
Many see it as exploitative and an invasion of the former president's privacy, our correspondent adds.
In the images, Mr Mandela is seen unsmiling, seated upright on a sofa with his legs covered in a blanket as people take photographs of him using flashes.
Patrick Conroy, the head of news at South Africa's privately owned television channel eNCA, accused the ANC of applying double standards.
"The media has been repeatedly lectured by the #ANC and SA govt about respecting #Madiba's privacy and dignity. Now we know how they treat him," he wrote on Twitter.
President Jacob Zuma and ANC Deputy President Cyril Ramaphosa were among the senior ANC officials who called in on Mr Mandela at his home in Johannesburg on Monday and were given an update by his medical team.
The president said Mr Mandela "shook hands and even smiled".
"Those who are complaining that Madiba's latest images was a publicity stunt by the [ANC] are eating sour grapes," the South African news agency, Sapa, quoted ANC spokesman Jackson Mthembu as saying.
"Our people have not seen Madiba in many years. Now they have seen him open and close his eyes... We are happy with his health. He is no longer a young man," he added.
Robben Island
Mr Mandela's health has been a continuing cause for concern recently.
The veteran leader's lung problems date from his 27 years as a political prisoner.
Eighteen years were spent on the windswept Robben Island, where he contracted tuberculosis.
In December, he spent more than two weeks in hospital undergoing treatment for his lung ailment and gallstones.
In February, doctors dealt with a stomach condition.
Mr Mandela, who stepped down as president in 1999, is revered in South Africa for his role in ending the system of apartheid, or white minority rule.
He retired from public life in 2004 after acting as a high-profile ambassador for the country.
Mr Mandela became South Africa's first black president in the 1990s and is seen by many as father of the nation.
He was awarded the Nobel Peace Prize in 1993 jointly with former President FW de Klerk for ending apartheid and bringing democracy to South Africa.