Mali's Ansar Dine militants blacklisted by US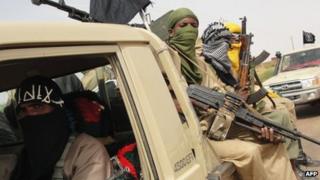 The US government has placed Mali's Islamist group Ansar Dine on its terror blacklist because of continued links to al-Qaeda's North Africa branch.
The decision freezes any of its US assets and bans business with it.
Ansar Dine was one of a number of militant groups that took control of northern Mali in the aftermath of a coup, one year ago on 22 March 2012.
French troops, which intervened in January to oust them, are still fighting insurgents in the mountains.
France currently has 4,000 troops in Mali, backed by thousands of soldiers from Mali, Chad and other African countries.
Following the coup, several Islamist groups took over major cities, including Gao, Kidal and Timbuktu, and imposed strict Islamic law.
Suicide attacks
Ansar Dine has received backing from al-Qaeda in the Islamic Mahgreb (AQIM) since its creation in late 2011 and "in its fight against Malian and French forces", the US State Department statement said.
It said that before France's intervention, Malian citizens in towns under Ansar Dine's control who did not comply with its laws "faced harassment, torture, or execution".
A year ago the group executed more than 80 Malian soldiers and kidnapped 30 more, the statement said.
Since the French intervention began, all the major towns in the vast desert region have been recaptured but fighting is still continuing in the remote Ifoghas mountains.
There have also been three suicide bomb attacks in northern towns.
Capt Amadou Sanogo, who headed the coup in March 2012, handed over to an interim government but remains a powerful figure in the background and heads a committee to oversee reforms in the military.
He led the putsch saying the army was ill-equipped to fight the rebellion in the north, which was initially started by Tuareg separatist fighters but later dominated by the Islamist groups.
France plans to withdraw its troops from Mali next month, with West African countries expected to take over the mission in the run-up to elections due in July.