Letter from Africa: Kenya fuels poll optimism
19 March 2013

From the section

Africa

comments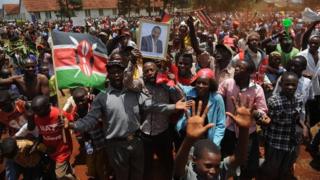 In our series of letters from Africa journalists, London-based Ugandan writer Joel Kibazo considers whether Zimbabwe can learn from Kenya's largely peaceful election process.
I have always thought elections are something we should celebrate, not fear.
Yet in a number of cases in Africa, an impending election induces tension and feelings of panic in the country where the election is being held and amongst its neighbours.
I was having drinks with friends in Kampala recently when one of them suddenly changed the subject and said: "Hey, I hope you are all ready - you know what happened last time."
For a brief moment I was puzzled, not knowing what my friend was speaking about. Then he went on. "It is the Kenya elections and you can't leave things to chance."
Those difficult days in early 2008 came flooding back to me: Violence had broken out in Kenya following the general election and within days we in Uganda had to contend with severe shortages of fuel and other supplies.
I was among those driving around trying to stock up yet at the same time using up the meagre fuel I had left.
The violence had suddenly closed the main routes to landlocked Uganda and nothing was coming in or going out across the borders, except the refugees fleeing the violence.
Mercifully, after two months of crisis, which led to the deaths of more than 1,000 people and the displacement of more than 600,000, the two leading candidates came together to form a coalition government which has been in power since then.
'The big mo'
So this time, as the Kenya elections approached, my friends were taking no chances and many had ensured they were stocked up on the essentials of life.
I thought I should sample the mood in Nairobi ahead of the elections.
I had spent a lot of time in the city in the run-up to the 2007 election when there were strong signs of some of the civil strife that was to break out.
This time, there was no getting away from the calls for peace.
I decided it would be an idea to sample a political rally so I headed for Nairobi's Uhuru Park.
Even that turned out to be a very loud rally calling for peace by faith groups.
There was no getting away from what everyone was hoping for.
Well, the message seems to have got through and much to the relief of all, bar a few incidents, the much-watched election went off without incident and, what is more, the announcement of Uhuru Kenyatta as the winner of the presidential race brought no incidents.
'Don't exhale'
At the beginning of this year I had predicted in my column that Raila Odinga would emerge triumphant but there was no getting away from the fact that Mr Kenyatta appeared to have "the big mo" or momentum as the campaign drew to a close.
If nothing else, the outcome of the Kenya election, not to mention my poor predictions for the Africa Cup of Nations, served to confirm there will be no alternative career for me in predicting the future.
Yet many of us cannot yet exhale because for all our celebrations over Kenya's largely peaceful election, our attention must now turn to Zimbabwe.
Few in Zimbabwe or those observing events from afar would want a repeat of the sheer terror and brutality that gripped the country as it held elections in 2008.
As in Kenya, the two leading presidential candidates - Zanu-PF's President Robert Mugabe and Morgan Tsvangirai of the MDC - finally came together in early 2009 to form a unity government that has helped bring stability to the country.
The question that arises is: Why does it have to get to the stage of people losing their lives and many thousands being displaced before sense can prevail?
On the other hand, the way opposing political parties and leaders managed to work alongside one another in both Zimbabwe and Kenya has shown there is a way of resolving what might appear to be intractable problems without holding a country to ransom.
In Kenya, this last election was preceded by the passing of a new constitution in 2010 and Zimbabwe is following a similar path before the elections expected in July.
My hope is that the passing of the new constitution in Zimbabwe will go some way to reducing many of the tensions that triggered the turmoil that followed the last election and thus peaceful polls will become the by-word here too.
We may yet learn to celebrate each and every election in Africa.
If you would like to comment on Joel Kibazo's column, please do so below.