Inside court: Day two of Pistorius bail hearing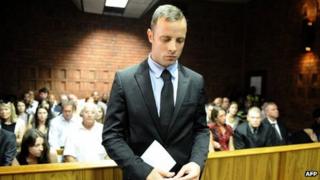 It was a day of dramatic twists and turns, allegations and counter-allegations in the South Africa courtroom where a magistrate is deciding whether champion sprinter Oscar Pretorius should be allowed bail.
Mr Pretorius faces a charge of premeditated murder over the fatal shooting of his girlfriend Reeva Steenkamp at his home. He denies the charge, saying he mistook her for an intruder.
Tweeting from the courtroom, the BBC's Andrew Harding (@BBCAndrewH) described the atmosphere as the prosecution and defence made their cases. Here are a selection of his tweets. Times are approximate.
0500 GMT (0700 local time)
Journalists queuing outside Oscar Pistorius trial again from early this morning. What will the prosecution reveal?
Shiny wristbands for journalists covering Oscar Pistorius. I have mine and now queuing outside Court C. Sweltering day here in Pretoria.
0600 GMT
Family arrived in courtroom. Mad scrum of journalists outside. Just made it in. Same seat as yesterday. Prosecution to start soon.
No sign of Oscar Pistorius's father yet. Investigating officer for prosecution tells me he'll go through evidence for much of day.
0700 GMT
Member of Oscar Pistorius defence team tells me yesterday "went well". Today could be tougher.
Colleague @karynmaughan fainted in crush outside court. Now well and sitting beside me.
Oscar Pistorius father now seated. Appears to be praying.
0800 GMT
Prosecution says Reeva was "dressed" at time of shooting. Also witness heard "non stop talking, like fighting" for hour before shooting.
Court in session. Magistrate waves his hand, as if patting a large dog, to tell us to be seated. Oscar Pistorius stands a metre behind me.
In same suit and tie Oscar Pistorius says good morning your worship and sits.
Detective Botha giving evidence: arrived at scene at 4.15am. Found Reeva on bottom step. Dead. Wearing white shorts, black vest.
Botha says evidence Oscar Pistorius has offshore accounts. So flight risk and thus opposing bail.
Botha: We don't want another Dewani... ie suspect who avoids trial in SA.
Botha: Reeva shot on right side of head, in right hip and right elbow. Oscar Pistorius crying.
Botha describes bathroom: Two phones and four bullet cartridges on floor. Neither phones used that night.
Botha confirms shots fired through door.
Botha: We think cricket bat was used to gain entry.
Magistrate asks for diagram or sketch of bathroom and corridor. "Give us a better picture!"
0900 GMT
Botha thinks bullets were fired "down" and through top part of door suggesting Oscar Pistorius had prosthetic legs on.
Botha now helped by projection in court of house plan and bathroom.
Oscar Pistorius uncle tells me the facts will prove athlete shot as he cowered in bathroom entrance.
Botha: Witness says heard arguments from 2 to 3 am at Oscar Pistorius home - "sounded like a fight."
Oscar Pistorius lawyer forces Botha to admit that athlete told him at scene that "he thought it was a burglar" - most heated exchange so far
Botha suddenly defensive and grudging. Roux on offensive re bathroom ballistics.
1000 GMT
"He moved around" says Botha struggling to explain location of cartridges in bathroom under intense cross examination from defence.
Again Botha struggling on "argument" at Pistorius home heard by witness. Admits woman's house was 600m [third of a mile] away. Gasps in court.
And again - defence says "testosterone" in house was actually legal herbal remedy used by athletes. Onslaught against Botha is withering.
Botha admits to magistrate that he "didn't read the whole name" when claiming testosterone found. Botha on ropes, floundering.
Defence says Botha putting "worst possible interpretation" on evidence.
Now to post mortem. Defence says Reeva had empty bladder consistent with someone getting up to go to toilet. Botha agrees. Pistorius sobs.
Botha admits he would have locked toilet door too if he in Reeva's position having heard Oscar shouting to call police.
"I didn't think anything about it" says detective Botha. "That's what concerns me" replies defence, accusing him of bias in investigation.
Defence: post mortem showed no signs of assault or defensive wounds on Reeva Steenkamp. Correct says Botha.
Lunch break. Oscar Pistorius family look visibly relieved after all that.
"We're in terrible trouble" says junior prosecution official leaving court.
1100 GMT
Back in session in Court C. Police detective Botha back on stand.
Oscar Pistorius brother now sitting beside defence lawyer.
Detective Botha agrees he previously expressed confidence there would be "no problem" with bail.
Oscar Pistorius defence claims "illegal" ammunition at house belongs to athlete's father.
Botha says two witness statements about hearing altercation at Oscar Pistorius house prior to shooting.
1200 GMT
Prosecution now questioning detective again. Botha still on edge.
Be calm and focus, says prosecutor Nel to detective. I don't want to embarrass you.
Botha now says witness to shouting/argument was more like 300m away. Not 600 as he stated earlier.
Oscar Pistorius detective Botha asked by magistrate if he truly believes famous international Paralympic athlete would be flight risk. "Yes"
Laughter from Oscar Pistorius relatives when detective says he's a flight risk. Tone of Magistrate's question implies he is sceptical.
Magistrate: would gold medal Olympic athlete forsake career and avoid chance to clear name in court? It's possible says detective.
1300 GMT
Session over til tomorrow and likely decision on bail. Judging by magistrate's comments I suspect Oscar Pistorius will get bail.
Oscar Pistorius lawyer asked detective if he stands by comments so far. Replies yes.
VP of law society here tells me Oscar Pistorius still has "long battle ahead". But predicts bail will be granted. Defence had "v good day".