African viewpoint: Nigerian spirit triumphs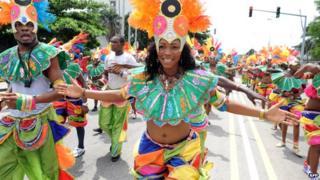 In our series of viewpoints from African journalists, Sola Odunfa in Lagos writes that Nigeria has faced a series of crises in 2012 but this has not stopped people from having fun.
It still seems like yesterday when Nigerian youths and workers poured out into the streets in their millions in Lagos and Abuja in January to protest at the government's sinister "new year present" of a steep increase in petrol pump price.
The demonstrations shut down public business in Nigeria's main cities for almost two weeks, yet the demonstrators were non-violent despite extreme provocation by security forces.
The event heralded the arrival in Nigeria of the social media as a potent force in mass communication and mobilisation. Henceforth, no-one in this country will ignore the power of Facebook, Twitter and SMS, particularly among young people.
Equally importantly, "Occupy Nigeria 2012" exposed to everyone the groundswell of frustration and anger in the land.
It remains an ever-present topic wherever groups of Nigerians discuss the prevailing economic and social situation - depending, of course, on the region of the country where the groups gather.
If I were resident anywhere north of River Niger, I would be more concerned about the security of my family this festive season.
The crimson tapestry woven by bombers from the militant Islamist group Boko Haram and killers in cities and villages throughout that region has been the dominant picture since the beginning of the year. Yet the towns are still alive.
Chieftaincy parties
I salute the courage of the ordinary people living in the terror-gripped region.
In spite of the activities of the marauding bombers and killers, farmers have not abandoned their daily chores, most schools remain open, Muslims still attend prayer services in their mosques on Fridays and the churches draw full congregations on Sundays, under guard by armed police.
There is no stronger evidence of the courage of the average Nigerian and their belief in the survival of the country despite bad governance.
Restiveness among the youths took a new turn in Nigeria this year with the jump in the number of unemployed school graduates.
Armed robbery has become outdated as a survival crime. It is more risky, I think. The new crime is kidnapping for ransom - huge ransom.
In this new offensive, no-one is immune. When foreigners, rich Nigerians, and public officials and their relatives are kidnapped the reports scream out of newspaper headlines, but scores of others fall victim on a frequent basis and only their relatives and friends who raise ransom money get to know about it. Still, life goes on.
This year Nigeria suffered its worst natural disaster in several years. Floods took over large parts of the country from the central states to the shores of the Atlantic.
Harvested crops, farmlands and irrigation systems were washed away. More than 350 people died.
The government says it is putting in all efforts to avert widely-predicted food shortages across the country next year.
Despite all of this, Nigerians are somehow finding the moral strength to keep smiling.
Come to Lagos and you will find that social parties are being staged every day.
From here, people travel every weekend to other cities just to join in merriment organised by friends and relatives.
This festive season all hotels and public halls in Lagos are fully booked for concerts and private parties. School grounds have been taken over for wedding, birthday and chieftaincy parties.
I tell you, the Nigerian spirit triumphs over every adversity. Have a happy new year.