DR Congo: US sanctions M23 rebel leader Sultani Makenga
14 November 2012

From the section

Africa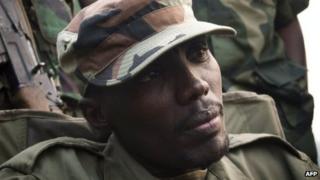 The US government has imposed sanctions against the leader of the M23 rebels in the Democratic Republic of Congo.
It said Sultani Makenga was being targeted for his use of child soldiers in the current conflict in DR Congo.
The move follows the UN's decision on Monday to add Col Makenga to its sanctions list.
Last month, a UN panel of experts said Rwanda and Uganda were supplying M23 with weapons and other support - allegations those countries deny.
The DR Congo government said more needed to be done to stop the rebellion in the east of the country, which borders Rwanda and Uganda.
"It's a good start but it's totally inadequate," government spokesman Lambert Mende told the AFP news agency.
"Sultani did not invent this pseudo-mutiny in the east, [but remains] an instrument behind much wrongdoing," he said.
The M23 movement, also known as the Congolese Revolutionary Army, has been fighting the Congolese government since April following an army mutiny.
Since then nearly half a million people have been displaced by fighting between the rebels and the army.
Border closed
"Sultani Makenga is responsible for extensive atrocities against the population in the DRC, including the recruitment of child soldiers, and campaigns of violence against civilians," Adam J Szubin, the director of the US Department of the Treasury's Office of Foreign Assets Control, said in a statement.
Under the UN sanctions, Col Makenga will be subject to a travel ban and assets freeze.
"Sultani Makenga has committed and is responsible for serious violations of international law involving the targeting of women and children in situations of armed conflict, including killing and maiming, sexual violence, abduction, and forced displacement," a statement from the UN sanctions committee on DR Congo said.
"According to testimonies and reports, the militants operating under the command of Sultani Makenga have conducted rapes throughout Rutshuru territory against women and children, some of whom have been as young as eight years old, as part of a policy to consolidate control."
Rwanda has denied allegations in a leaked report by a UN panel of experts that M23 leaders received "direct military orders" from Rwanda's defence ministry.
Kigali is widely seen as having backed armed groups in the east of DR Congo as a way to fight Hutu rebels who fled there after the 1994 genocide.
It has been accused of using militias as proxies in an on-going battle for the region, which is rich in minerals.
The same leaked UN report has also infuriated Kampala after accusing it of arming the Congolese rebels.
It has threatened to withdraw Ugandan forces from UN-backed international missions as a consequence.
On Tuesday, Uganda closed the Bunagana border crossing into DR Congo.
"The Congolese were complaining that M23 were taxing lorries and goods going through, so at the request of the government of Congo we have closed the border," AFP quotes Ugandan army spokesman Felix Kulayigye as saying.