Somalia al-Shabab armoury 'destroyed in Kismayo'
26 September 2012

From the section

Africa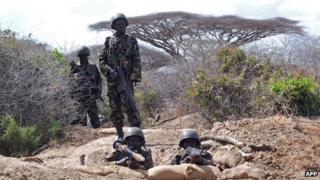 Kenya's military says its jets have bombed the airport in the Somali city of Kismayo, destroying an armoury and warehouse used by Islamist militants.
The port city of Kismayo in southern Somalia is a stronghold of the al-Qaeda aligned group al-Shabab.
An al-Shabab spokesman said no-one was killed and no property damaged.
Kenyan troops are part of an African Union force trying to wrest control of the country from the militants for the newly elected UN-backed president.
Al-Shabab has been forced out of the capital, Mogadishu, and several other towns over the past year but still controls much of the countryside in south and central Somalia.
Some 10,000 people have fled Kismayo in the past week, the United Nations refugee agency estimates, as African Union forces (Amisom), government troops and pro-government militia slowly advance on the city - the last major al-Shabab base.
Kenya began its intervention in Somalia nearly a year ago after a spate of cross-border attacks blamed on al-Shabab.
Earlier in the week at the UN headquarters in New York, Kenyan President Mwai Kibaki said he hoped Somali refugees living in Kenya would be moved to "liberated areas" of Somalia, state media reported.
Kenya hosts the world's largest refugee camp, Dadaab - home to some 465,000 Somalis who have fled fighting and famine over the last two decades.
Mr Kibaki called the situation "untenable".
'Aerial surveys'
The Kenyan army said three bombs were dropped on the airport.
"The explosions were very heavy and they rocked the airport," eyewitness Abdi Ugas told the AFP news agency.
Residents in the city have told the BBC Somali Service that they have been hearing frequent shelling into the city from international naval ships off the coast.
Aircraft are also often seen flying over, surveying the city, they say.
The UN special envoy for Somalia, Augustine Philip Mahiga, has told the BBC that he is more optimistic now than he has ever been that peace will come to Somalia.
"The pacification of the country by Amisom and the Somali forces is going apace and the political process following the election of the president by parliament is coming to a head with the possible naming of a prime minister any time this week and the formation of a council of ministers pretty soon," he told the BBC's Newshour programme.
He said the announcement earlier in the week that the Hizbul Islam group was leaving al-Shabab marked a critical stage for Somalia and presented an incredible opportunity.
"I think this is the beginning of a process which the new government will pursue constructively in order to engage in political outreach and reconciliation by many more elements within the Shabab. I think this is the best chance Somalia has ever had in the past 22 years."
Since the overthrow of President Siad Barre in 1991, Somalia has seen clan-based warlords, Islamist militants and its neighbours all battling for control.