Nigeria: Kidnapped Sea Trucks Group oil workers freed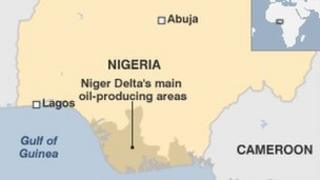 Four foreign oil workers who were kidnapped off the coast of Nigeria earlier this month have been released.
Their employer, oil services firm Sea Trucks Group, said they were in good health but declined to say whether a ransom had been paid.
After the abduction, Nigeria's navy had said the foreigners were from Indonesia, Thailand, Malaysia and Iran.
Attacks in the Niger Delta have declined since a 2009 amnesty for militants ended years of conflict.
Two Nigerian navy sailors were killed during the abduction on 4 August when gunmen stormed an oil barge off the coast.
It is not clear how the abducted foreign oil workers were freed.
"The families have been informed and we are very much relieved," AFP news agency quotes Corrie van Kessel, of Sea Trucks Group in the Netherlands, as saying.
Nigerian navy spokesman Kabir Aliyu told Reuters news agency the oil workers had been "released by pirates" on Thursday morning.
Piracy is increasing in parts of West Africa. In the first six month of this year, the International Maritime Bureau says it has recorded 17 pirate attacks in Nigerian waters this year - a significant increase on 2011.