Mali Islamists: UN chief Ban Ki-Moon urges sanctions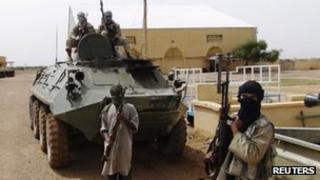 UN Secretary-General Ban Ki-Moon has called on the Security Council to impose sanctions on Islamist rebels in northern Mali.
Mr Ban said the Council should consider asset freezes and travel bans against the rebels, who have faced widespread condemnation for human rights abuses.
He added the area was in danger of becoming a "safe haven" for terrorists.
Islamist groups seized control of key towns in northern Mali following a military coup in March.
Mr Ban told the Security Council that recent developments had brought "enormous suffering to the people of Mali".
"A severe food security and nutrition crisis is now affecting 4.6m people in Mali," he said, adding that hundreds of thousands of people had been displaced in the unrest.
Stoned to death
Mr Ban also expressed concerns at reports of "serious human rights violations" committed by the rebels.
Last week, local Malian officials said a couple were stoned to death by Islamists in the town of Aguelhok for having sex outside marriage.
There has also been international condemnation of the Islamists for destroying centuries-old shrines to saints revered by Sufi Muslims in the ancient city of Timbuktu.
Spokeswoman for the West African regional bloc Ecowas Salamatu Hussaini Suleiman also addressed the Council. Ecowas is pushing for UN approval for the deployment of an intervention force.
The Security Council first wants to see detailed plans for such an intervention, and Ms Suleiman said these would be finalised in the coming days, the BBC's Barbara Plett in New York reports.
An Ecowas mediator has met Islamist leaders in Mali and asked them to cut ties with al-Qaeda in the hope of starting peace talks between the rebels and the government.
However, Mr Ban said no meaningful dialogue had begun.