South Africa: Five die in KwaZulu-Natal 'clan shooting'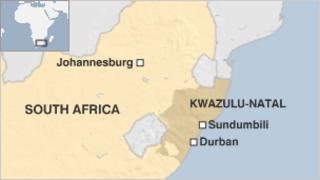 Five people have been killed in a shooting in South Africa's eastern KwaZulu-Natal province thought to be rooted in clan rivalry.
Another 17 people were wounded in Saturday's attack on a traditional coming-of-age ceremony, police said.
Tribal leaders say the incident, in a village near Sundumbili, involves two Zulu clans with a long rivalry.
In 1985-1994, thousands died in violence between rival political groups in the then province of Natal.
The killing of a town councillor in the province in June has sparked fears of a return to political violence.
The provincial minister for transport and communities, Willies Mchunu, told the BBC that local tribal leaders had spoken of longstanding tensions between the leaders of the two clans involved, and that the area was known for tribal wars in the past.
But he said it was the first recent attack of its kind in the area, and that the local community was in shock.
The motive for the shooting and the types of firearms used are unknown, according to a police statement.
Provincial police chief Lt-Gen Mmamonnye Ngobeni said a special task force had been formed to investigate the shooting.
"I am confident that we will bring the perpetrators to book. There is no place in society today for people who can butcher innocent people without batting an eyelid," she said.