Ivory Coast truth commission 'not working'
3 August 2012

From the section

Africa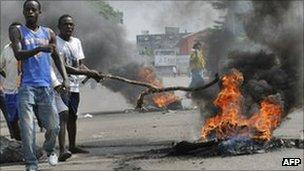 A truth commission set up after last year's election violence in Ivory Coast is unable to work properly due to a lack of funds, a spokesman says.
The BBC's John James in Abidjan says that a year after the Truth, Reconciliation and Dialogue Commission was set up, many Ivorians complain that it has achieved little.
The panel includes football star Didier Drogba, representing Ivorians abroad.
Some 3,000 people were killed in a dispute after the December 2010 poll.
Laurent Gbagbo refused to accept defeat to President Alassane Ouattara, who eventually ousted his rival with the help of former rebel forces, the UN and former colonial power France.
Ivory Coast's commission, led by former Prime Minister Charles Konan Banny, is modelled on South Africa's Truth and Reconciliation Commission, which was established after the end of apartheid.
But our reporter says that halfway through its mandate, it has yet to make much of an impact in healing the country's wounds after last year's divisive conflict.
The national consultation groups planned for the beginning of June have yet to start work due to a lack of funds.
Commission spokesman Franck Kouassi Sran says it is false to say it has not done anything.
"If we haven't deployed all of our actions, it's because we're being held back by a lack of resources. We hope that soon we can restart our activities to do everything necessary to complete our mission," he said.
The government says reconciliation is a priority, but with a judicial process that has so far only targeted Mr Gbagbo's supporters, some complain of victors' justice, our reporter says.
Earlier this week, President Ouattara told the BBC that anyone involved in crimes during the conflict - from whatever side - would be prosecuted.
Even without financial problems, the commission has been hampered in its work by the opposition's refusal to agree to take part in the current political process.
The 11-member commission is planning to organise public confrontations between victims and those accused of committing atrocities, though unlike in South Africa, no amnesties will be available for those who confess to crimes.
Mr Gbagbo is currently in The Hague, awaiting trial at the International Criminal Court on charges of crimes against humanity.