Hillary Clinton to meet Uganda's Yoweri Museveni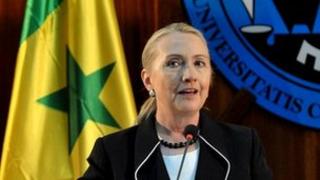 US Secretary of State Hillary Clinton has flown to Uganda on the latest leg of her Africa tour, condemning autocratic rule on the continent.
She is due to meet Ugandan President Yoweri Museveni, a key ally in the US's campaign against Islamic extremism.
Ugandan troops are in Somalia under the banner of the African Union to fight al-Shabab Islamist rebels.
Earlier, in Senegal, Mrs Clinton said Africa had too many autocratic rulers who cared little about their citizens.
She ruled out resuming US aid to Mali until the military - which staged a coup in March - handed power to a democratically elected government.
She also voiced concern that Guinea-Bissau, to the south of Senegal, which experienced a coup in April, could become completely dependent on Latin American drug traffickers.
Ms Clinton held up Senegal's democratic transition from long-serving President Abdoulaye Wade to his successor, Macky Sall, as an example to the region.
Security concerns
"If anyone doubts whether democracy can flourish in African soil, let them come to Senegal," she was quoted by the AFP news agency as saying.
BBC Africa analyst Martin Plaut says Mrs Clinton's visit to Uganda will be among the most important of her 11-nation tour.
Regional security is expected to dominate her discussions with Mr Museveni, a staunch US ally who has been in power since 1986.
Ugandan troops are fighting al-Shabab, which pledges loyalty to al-Qaeda, in Somalia. US special forces, meanwhile, are helping Ugandan troops to track down Ugandan Lord's Resistance Army (LRA) rebel leader Joseph Kony, who is wanted by the International Criminal Court (ICC) for war crimes.
From Uganda, Mrs Clinton will travel to South Sudan, becoming the most senior US official to visit the country since it became independent last year.
The tour also includes a private meeting with South Africa's anti-apartheid leader Nelson Mandela, now 94, in his home town of Qunu.
Her last stop will be Ghana, where she will attend the 10 August state funeral for the country's late president, John Atta Mills, who died last week.