Kenyan hyena attack boy Musa Jelle treated in Nairobi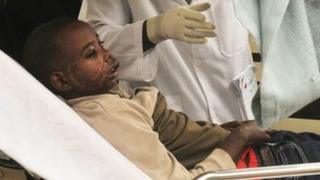 A 10-year-old Kenyan boy who was mauled by hyenas, in an attack which left two children in his family dead, has been flown to Nairobi for treatment.
The pack of hyenas attacked Musa Jelle and his family as they slept in their home in the northern town of Wajir.
The Kenya Wildlife Service (KWS), which manages the country's game parks and wildlife, has since killed the hyenas.
Wild animals are a major tourist attraction in Kenya but confrontations with humans have increased recently.
Musa has been left with several long scars across his face, while 10 other people were injured in the attack on 10 June.
KWS are covering Musa's medical expenses, in addition to paying compensation of about $230 (£150) to his family.
The BBC's Kevin Mwachiro in Nairobi says the service is facing the challenge of trying to stop local communities from killing wildlife.
Recently, six lions were slaughtered by members of the Maasai tribe, after the pride attacked their cattle in Kenya's capital.