Ivory Coast: Gbagbo ally Ble Goude 'fears for his life'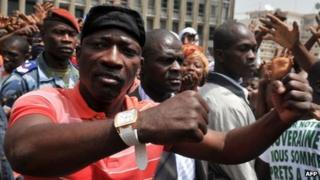 Ivory Coast's firebrand youth leader Charles Ble Goude has told the BBC that he fears for his life more than a year after he went into hiding.
Mr Ble Goude went on the run after the capture in April 2011 of ex-President Laurent Gbagbo, who had refused to accept electoral defeat and now faces war crimes charges at The Hague.
Ivory Coast then issued an arrest warrant for the pro-Gbagbo loyalist.
"I'm not running from justice... people are looking to kill me," he said.
The UN oversaw the November 2010 election and said it was won by Alassane Ouattara, who was eventually inaugurated after a four-month stand-off in which some 3,000 people were killed.
Mr Ble Goude was put under UN sanctions in 2006 accused of inciting attacks against UN personnel.
'No militia'
During the interview with the BBC World Today programme, he refused to say where he was speaking from, but confirmed he was outside Ivory Coast.
Known for his vitriolic speeches, Mr Ble Goude is alleged to have mobilised thousands of young men to join the army in the final days of the election dispute.
But he told the BBC that, as head of the Young Patriots group, he had only organised rallies and meetings and never run a militia.
"I am not chief of militia - I've never bought weapons, we went to the streets against those who had weapons, we were bare handed," he said.
He said he was ready to go the International Criminal Court in The Hague to clear his name if that is what it took.
"I think my place is not there [at the ICC], but if my presence there can clear [up] what happened… I'm ready to do that."
Mr Ble Goude, who served as Mr Gbagbo's youth minister, said he would be prepared to go home if certain conditions were met.
"I want all the prisoners to be freed; I want all those people in exile to come back home with their dignity."
He said there would never be peace in Ivory Coast unless the different sides of the political divide learnt to live together.
"We all need to be together in that country as South Africa has done - I think we can do it," he said.
Earlier this month, the Ivorian authorities said they had foiled a plot to overthrow the government organised by pro-Gbagbo supporters which was linked to cross-border raids from Liberia.