Rwanda's General Nyamwasa in SA 'murder plot' evidence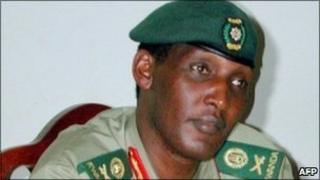 A former Rwandan army chief who survived two assassination attempts has given evidence at the trial of those accused of plotting to kill him.
Gen Faustin Kayumba Nyamwasa fled to South Africa in 2010 after falling out with his former ally, Rwandan President Paul Kagame.
Months later he survived a Johannesburg shooting, which Rwanda denied being involved in. A second plot was foiled.
He is a witness at the attempted murder trial in Johannesburg.
A lawyer representing Rwanda's government raised an objection on the grounds that Gen Nyamwasa's testimony could be political.
However, magistrate Stanley Mkhari dismissed the objection, which was raised as the former army chief prepared to tell the court about his background, because "the government of Rwanda is not a party to the process".
Gen Nyamwasa has told the court about his early life and career in what is thought to be his first public appearance since the attempts to kill him.
The former Rwandan army chief was shot in the stomach as he was being driven back to his home in Johannesburg in June 2010 and taken to hospital, where a second attempt on his life was foiled by South African intelligence.
Rwanda has denied accusations it was involved.
Mr Kagame led the Rwandan Patriotic Front (RPF) rebel movement which put a stop to the country's genocide in 1994 after some 800,000 ethnic Tutsis and moderate Hutus were killed.
He has been president since 2000.
Prior to their falling out, Gen Nyamwasa and the Rwandan president had been close allies.
He helped Mr Kagame to come to power and was appointed army chief of staff in 1998.
But their relationship soured and he was accused of undermining President Kagame, who some critics say runs a repressive regime.
Rwandans have linked Gen Nyamwasa to a series of grenade attacks in the country's capital, Kigali.
Last year a Rwandan military court sentenced Gen Nyamwasa to 24 years in jail for threatening state security.
Rwanda has pushed South Africa to extradite him to serve the sentence.