Liberia's Charles Taylor to challenge war crimes verdict
19 June 2012

From the section

Africa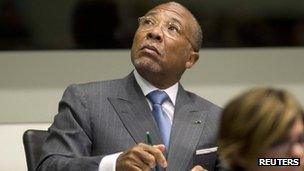 Liberia's ex-President Charles Taylor is to appeal against his conviction by a UN-backed war crimes court, his lawyers say.
He was jailed for 50 years for aiding and abetting rebels in Sierra Leone during the 1991-2002 civil war.
Taylor, 64, was found to have supplied weapons to the Revolutionary United Front rebels in exchange for a constant flow of so-called blood diamonds.
Taylor's lawyers submitted the document to the Special Court for Sierra Leone.
'Heinous crimes'
At the time of his sentencing on 30 May, his lawyer told the BBC he would launch an appeal. Taylor has always insisted he is innocent and his only contact with the rebels was to urge them to stop fighting.
The court said in a brief statement that Taylor's defence lawyers have now filed a formal notice of their intention to appeal, AP reports.
In the landmark ruling in April, Taylor was found guilty on 11 counts of war crimes, relating to atrocities including rape and murder - described by Judge Richard Lussick as "some of the most heinous crimes in human history".
"The lives of many more innocent civilians in Sierra Leone were lost or destroyed as a direct result of his actions," the judge said.
Taylor became the first former head of state to be convicted of war crimes by an international court since the Nuremburg trials of Nazis after World War II.
The prosecution had asked for an 80-year prison term to reflect the severity of the crimes and the central role that Taylor had in facilitating them
The judges decided that would have been excessive, given the limited scope of his involvement in planning rebel operations in Sierra Leone.
The court was set up in 2002 to try those who bore the greatest responsibility for the war in Sierra Leone in which some 50,000 people were killed.
During the appeals process, which correspondents say could take several months, Taylor will remain in The Hague.
If his appeal fails, he will serve his sentence in a British jail.
The Dutch government agreed to hold the case - after fears were expressed that a trial in Sierra Leone could destabilise the region - only if Taylor would serve any sentence in another country.