Ivory Coast: Ex-President Gbagbo ally Kouassi arrested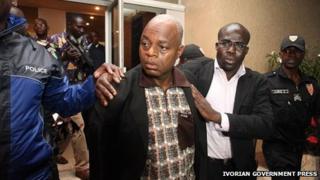 A key ally of Ivory Coast's ex-President Laurent Gbagbo has been arrested in Togo and extradited home.
Moise Lida Kouassi is the first of Mr Gbagbo's allies to be arrested in connection with last year's crisis following elections in late 2010.
A violent four-month stand-off ensued when he refused to hand over power to Alassane Ouattara, who won the poll.
Mr Gbagbo is now in The Hague awaiting trial on charges of crimes against humanity during the dispute.
An arrest warrant was issued for Mr Kouassi, who once served as Mr Gbago's defence minister, along with 23 others, in June 2011.
Unexpected move
The BBC's John James in Ivory Coast's main city of Abidjan says Mr Kouassi stepped off a plane late on Wednesday night, handcuffed and looking surprised to be back home.
He arrived a couple of hours after President Ouattara, who had been in the Togolese capital, Lome, attending a meeting.
"I think that everyone knows Mr Lida Kouassi and his involvement in everything that happened in our country these past 10 years," Mr Ouattara said.
Mr Kouassi has been tranferred to Abidjan's main prison and is expected to be questioned by police over his role in violence that rocked Ivory Coast last year.
Mr Kouassi was the defence minister when a September 2002 coup attempt turned into full-scale rebellion leading to a protracted civil war, in which thousands were killed and the country was divided between north and south.
In the past few years he had not held a formal post but he was part of Mr Gbagbo's team, and is seen as a hardliner, analysts say.
The former minister had been in exile in the West African country of Togo - many other associates of Mr Gbagbo are also in exile in the region, including in Ghana and Benin.
Reconciliation implications?
He was arrested on Wednesday morning by 20 Togolese security officers, who searched his house and seized his computer.
Our correspondent says Mr Kouassi's arrest was unexpected given that Togolese authorities, like others in West Africa, had previously failed to act on a long-standing international arrest warrant.
Ivorian Interior Minister Hamed Bakayoko told reporters Mr Kouassi may have broken the conditions of his exile in Togo to keep out of politics.
"He broke this duty to keep quiet on several occasions... he was found to have compromising documents which implicate him in projects to destabilise Ivory Coast," Mr Bakayoko said.
"The Togolese authorities have transferred these documents to us, which will be very useful, and these will be looked at by our people and made available to the judicial authorities," the minister added.
Mr Kouassi's arrest could mark the start of more arrests, our reporter says.
It could also have implications for the country's peace and reconciliation process, raising questions over whether pro-Gbagbo people are more likely to be pursued in the courts than included in a national government, he says.
Togo's arrest of Mr Kouassi comes in the wake of a report by Human Rights Watch highlighting the use of children by Ivorian militants living in Liberia and Liberian mercenaries to conduct cross-border attacks on villages in Ivory Coast aligned to President Ouattara.
The watchdog said the Liberian government had not taken adequate measures to stop this - a charge denied by Liberia.
Information Minister Lewis Brown told the BBC that Liberia would never support any actions or groups that would destabilise a neighbouring country.