DR Congo army mutineers sentenced to death in absentia
31 May 2012

From the section

Africa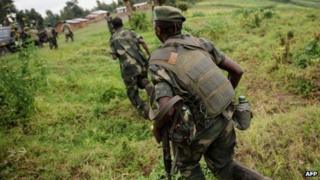 A military court has sentenced two soldiers to death in absentia for taking part in a mutiny in the east of the Democratic Republic of Congo.
Another eight officers, present in court, were handed life sentences, and three others prison terms between two to 20 years.
The mutineers confessed to taking part in a meeting with Gen Bosco Ntaganda to plan the mutiny, a judge told the BBC.
Gen Ntaganda, wanted for war crimes, denies masterminding the mutiny.
'Mutiny meeting'
Five officers were acquitted of multiple offences including insurrection and desertion, after a trial that lasted more than two weeks in the town of Uvira, in South Kivu province.
April's mutiny was led by former CNDP rebels who were integrated into the Congolese national army in 2009 as part of a peace deal.
Thousands of people have fled their homes as a result of heavy fighting - which has stopped in South Kivu province but continues in neighbouring North Kivu.
The BBC's Thomas Hubert in Kinshasa said Wednesday's heavy sentences - including life for Col Bernard Byamungu who led the South Kivu mutiny - seems to be a sign that the Congolese authorities are determined to crack down on the renegade soldiers - despite recent offers of negotiations from the M23 rebels.
During the trial, it emerged that the mutiny was planned during a meeting that was held in March in Goma, the main town in eastern Congo, and chaired by Gen Ntaganda, Col Freddy Mukendi told the BBC.
The general, also known as the "Terminator" ordered those in the meeting to delay payments to the troops in an attempt to create discontent and encourage a mutiny, before taking to the bush with weapons stolen from army barracks, according to Col Mukendi.
In an interview with the BBC on Tuesday , Gen Ntaganda, who is wanted for war crimes by the International Criminal Court, denied any links with the mutineers.
He also rejected an internal United Nations report seen by the BBC quoting demobilised M23 fighters who said they had been recruited and armed in Rwanda.
Kigali has also denied the allegations - and on Wednesday a United Nations spokesman in Kinshasa told reporters the fighters' testimonies were not proof that Rwanda had a direct role in the renewed fighting in eastern Congo.