African viewpoint: Pride and politics
29 May 2012

From the section

Africa

comments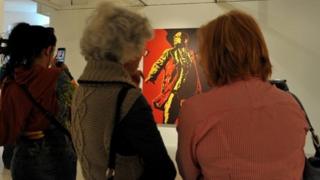 In our series of viewpoints from African journalists, film-maker and columnist Farai Sevenzo considers how hard it is for men in power in Africa to become heroes.
Africa's week has been interesting as usual.
A painting, The Spear, which depicts the South African President Jacob Zuma, with his trousers unzipped and his member protruding, has tested the republic's tolerance for its liberal constitution and freedom of expression.
As lawsuits were thrown around it was said the artists were out of tune with the masses, who saw no African "Ubuntu" in mocking a sitting president in this manner.
Over in Mali, their caretaker President Dioncounda Traore was accosted by a baying mob accusing him of dragging his feet over the transition to democracy after their coup.
The poor man was beaten by a many headed monster which may well have been a rent-a-crowd hired courtesy of the junta leaders.
The office of the presidency has been abused and mocked in the most un-African manner.
The cynics will snigger and say, "So what, presidents are not demi-Gods and they must be teased."
If a man is in the headlines for his procreational prowess and his many wives, then isn't it fitting to show President Zuma with his phallus taking centre stage?
Such cynics ignore cultural sensitivities.
For even today in this hurtling 21st Century, with its attention deficit disorder, celebrity obsession and shallow understanding of life, we would be hard pressed not to find polygamists in our lineage.
And what is more, those who are quickest to mock are those furthest away from such ancestral backgrounds.
Fashion poser
So can the president take them all on through the courts?
From the artist whose painting so offended, to the gallery displaying it, to the newspapers giving it space on their websites, The Spear has divided the republic.
President Zuma has found overwhelming support amongst the ANC faithful who have declared themselves "hurt" on his behalf.
One newspaper - City Press - removed the painting from its website. A pragmatic move or an empathetic one?
Nor did it end with the papers' climb down - days after the painting was vandalised in front of visiting school children in the Goodman Gallery, demonstrations are all the rage on behalf of the president's dignity.
Some African countries jail people for insulting their president, but not this republic.
South Africans, fiercely proud of their libertarian constitution find themselves imprisoned by it: The most liberal gay rights on the continent must contest for space with the murders of lesbians; artistic expression must vie with affronted dignity and conservative African values.
Mr Zuma may as well put himself on a Shakespearean stage and recite the universal bard's lines in Measure for Measure: "Sith 'twas my fault, to give the people scope, 'Twould be my tyranny to strike and gall them, For what I bid them do…"
Meanwhile, yet another president in the midst of his country's most trying period, insecurity, religious clashes and economic uncertainty, found time to pose for Italian Vogue .
The decision to do this can only be perceived as a vanity project or a massive error of judgement by his advisers.
We learned nothing from Goodluck Jonathan's appearance in this fashion bible except that the president was trying to rebrand his country through a fashion magazine and to name drop a couple of Nigerian fashion designers with his ministers of tourism and oil in tow.
Perhaps to those of us on the outside looking in - it is the bombs that seem to be grabbing the headlines and a light touch from a fashion magazine does not distract from the issues of Boko Haram and the killings of 2012 in Nigeria.
And so rather than feel sorry for these men of power, I wondered whether there was something about them which makes the office of the presidency such an easy target for ridicule.
Footballer to president?
In search of alternative African heroes who could restore African pride, I settled down for a shisha and whisky the other night to watch the Champions League Football Final.
In my mind's eye, I could see screens flickering to life from Bamako to Burkina, Abidjan to Accra, Harare and Hargeisa because after all there are far more replica football shirts on our streets than there are political posters promoting the virtues of one party over another or one president over an opponent.
Football, we know, is our great escape and the one true place for the modern African hero.
Didier Yves Drogba Tebily made the millions who followed him in the colours of the English Premiership club, which as an Arsenal supporter I am loathe to mention here, leap with joy.
This is a great man, Africans declared, a true hero to the continent, a man who spends his millions on giving back.
And as he left the bright lights of the English Premier League, allegedly heading to the vast riches of the new empire that is China, no-one could begrudge him his swan song.
He has truly represented.
As Drogba won the ultimate club prize for his team, millions wondered when he would leave the football alone and raise the Ivorian flag from the presidential palace as president.
Such a move would curse a natural talent to the mundane blood-soaked business of politics, open to ridicule and pomposity, and great heroes do not deserve such a fate.
If you would like to comment on Farai Sevenzo's latest column, please use the form below.