Somalis flee Afgoye advance by African Union troops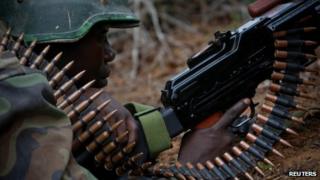 Thousands of Somalis are fleeing fighting as African Union forces advance on Afgoye, an Islamist stronghold near the capital, Mogadishu.
The troops have advanced to within 10km (six miles) of the key town held by al-Shabab, an AU spokesman told the BBC.
Residents in the area between the capital and Afgoye told the BBC many people had either left for Mogadishu or fled into surrounding countryside.
Al-Shabab is under pressure on a number of military fronts in the country.
But the group, which joined al-Qaeda earlier this year, still controls much of the country and mounts frequent attacks in the capital - despite being expelled from its bases there last August.
The Horn of Africa nation has been without an effective central government since 1991 and has been racked by fighting ever since - a situation that has allowed piracy and lawlessness to flourish.
At the moment, the UN-backed transitional Somali government, whose mandate expires in August, only controls the capital.
Pre-dawn attack
The road between Mogadishu and Afgoye town is known as the Afgoye corridor - and is home to one of the biggest concentrations of internally displaced people, with up to 400,000 living in makeshift camps.
Residents have been asked to stay as African Union troops say they are avoiding built-up areas and camps around the main Afgoye road.
The UN says it has not received reports of a significant movement of people.
But Afgoye corridor residents told the BBC's Somali Service that many feel too scared to stay put and thousands have started to leave.
The town of Afgoye, 30km north-west of Mogadishu, lies on a strategic crossroads for routes to the north, west and south of Somalia.
Hundreds of Somali government forces backed by AU soldiers and tanks launched a fresh offensive on the town on Tuesday, moving out in a pre-dawn attack from Daynile, a suburb of Mogadishu.
"In a couple of days we should be able to complete our objective - which is capturing that town," AU spokesperson Lt Col Paddy Ankunda, told the BBC.
Analysts say if they take Afgoye it would be a major blow to al-Shabab - and help secure the capital, where the group continues to stage suicide attacks.
But al-Shabab told the BBC's Somali Service that its soldiers are putting up strong resistance, and said they had killed one AU commander.
Three AU soldiers were injured in the fighting, including one seriously and who has been flown to the Kenyan capital, Nairobi, Lt Col Ankunda said.
Over years of fighting in Somalia, nearly 1.5 million people have been forced from their homes and are internally displaced.
This year the AU force has been boosted from 12,000 troops to nearly 18,000 to incorporate Kenyan troops which entered Somalia last October in pursuit of al-Shabab militants. They accuse the fighters of being behind various kidnappings on Kenyan soil and of destabilising the border region.
Last month, AU troops for the first time deployed to Baidoa, a strategic south-western town, after it was wrested from al-Shabab's control by Ethiopian troops.
Meanwhile, Somali leaders, who have been meeting this week in the Ethiopian capital, Addis Ababa, are expected to set a new deadline for the approval of a new constitution and the appointment of MPs, who will elect a new president.
Correspondents say these are steps crucial for the country's peace process following a deal signed by several disparate factions in the country earlier this year.