Nigeria accuses Chinese traders of 'scavenging' in Kano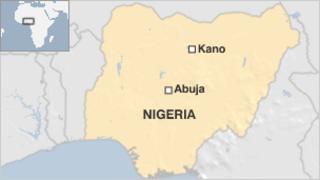 Nigerian immigration officials say they have arrested 45 Chinese nationals for alleged illegal textile trading.
Those arrested - 34 men and 11 women - had been trading at a textile market in the northern city of Kano, state officials said.
Nigerian law bans foreigners from the retail trading of textiles.
Local immigration chief Emmanuel Brisca Ifeadi described the Chinese as "scavengers" and said the arrests were part of a wider crackdown.
"The Chinese expatriates were found to be scavenging in the market, which is hurting the nation's economy," Mr Ifeadi said.
He told local media that the Chinese workers had been engaged in "lowly rated activities" that should be reserved for Nigerians and were "depriving them of job opportunities".
"Only quality expatriates would be allowed into the country, not those who are economic scavengers. They will be deported to their country," he said.
"For Chinese to come to our country and be selling textiles in our market will not be allowed. And we will continue checking them; arresting them and deporting them to their country."
He said all foreigners found to be trading illegally would be targeted in the crackdown, not just Chinese.
However, he said foreign nationals who came to Nigeria to invest and create employment for Nigerians would be "welcomed and supported by the federal government".
China is now Africa's largest trading partner, surpassing the United States and its traditional European partners.