ICC seeks warrants for Congo rebel leaders
15 May 2012

From the section

Africa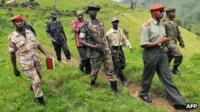 The International Criminal Court's chief prosecutor has said he is seeking arrest warrants for two rebel leaders in the Democratic Republic of Congo.
There is already a warrant out for renegade soldier, Bosco Ntaganda, but prosecutor Luis Moreno-Ocampo said he wanted to add more charges to it.
The other warrant is for Sylvestre Mudacumura, another guerrilla leader.
Both are accused of crimes against humanity and war crimes including the murder and rape of civilians.
Mr Moreno-Ocamp said that both men were among "the most dangerous" operating in the region and that he had "faith in the solidity of our dossier".
The court must confirm the requests before the warrants are issued.
'Time to arrest'
Three counts of crimes against humanity and four counts of war crimes have been added to the arrest warrant of Gen Ntaganda - known as the "Terminator".
He was first indicted in 2006 by the ICC for allegedly recruiting child soldiers for the same rebel group as Thomas Lubanga, who in March became the first person to be convicted by the court of war crimes.
The new charges - which also include ethnic persecution allegedly carried out during the 2002-2003 conflict in Ituri, eastern DR Congo - came about as a result of evidence given during the Lubanga trial.
"When impunity prevails, persons like Bosco Ntaganda are encouraged to continue committing crimes. They increase their power through violence... Now more than ever is the time to arrest him," an ICC statement says.
Mr Mudacumura is the field commander of the FDLR, or Democratic Forces for the Liberation of Rwanda, whose leaders are believed to have taken part in the 1994 genocide in Rwanda.
Its members include extremist Hutus, who took cover in neighbouring Congo after the end of the mass killings which claimed the lives of some 800,000 people, mostly ethnic Tutsis.
The ICC chief prosecutor wants Mr Mudacumura charged with five counts of crimes against humanity and nine counts of war crimes.
Both men are accused of targeting civilians in the eastern part of the country.
Analysts say arresting either men will be difficult since their whereabouts are unknown, with Gen Ntaganda, a Tutsi, leaving his Goma base in eastern DR Congo just as soldiers loyal to him deserted the Congolese army.
The renegade general denies masterminding the mutiny by former members of the CNDP rebel group, whose fighters were integrated into the Congolese army as part of a peace deal three years ago.
The Congolese government has refused to hand over Gen Ntaganda, saying that it now wants to put him on trial in the country for his role in fighting that broke out in late April in the North Kivu region between soldiers loyal to him and former CNDP rebels.