African press hails Taylor verdict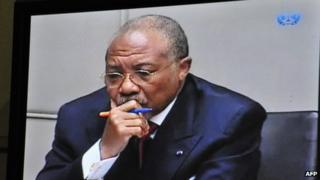 Many newspapers in Africa have welcomed the guilty verdict against former Liberian leader Charles Taylor, who was convicted of aiding and abetting war crimes committed during the Sierra Leone civil war.
Commentators say the verdict, handed down by the UN-backed Special Court for Sierra Leone, marks an end to impunity and should serve as a warning to all rights abusers in Africa - past, present and future.
"The days of impunity are gone," says an editorial in Sierra Leone's Cocorioko .
The US-based news website, observed to run articles supporting Sierra Leonean President Ernest Bai Koroma, hopes the verdict will prevent efforts to disrupt the forthcoming presidential and parliamentary elections in November.
"If you are among these people who have a deviant agenda for our country, meet you at the International Criminal Court," the paper says.
An editorial in Liberia's New Dawn private daily also welcomes the verdict, saying that "justice has finally prevailed in the interest of hundreds of Sierra Leoneans maimed and victimized one way or the other".
"Let there be no wheeling and dealing about this. Let war criminals or suspected war criminals of the wars fought in Liberia face justice, too; let them be prosecuted as Taylor has been," the paper says.
Kenya's Daily Nation , a top-selling private daily, points out that the trial took almost five years, but says that international justice works in the end.
Four prominent Kenyans are due to stand trial at the International Criminal Court (ICC) over crimes against humanity following post-election violence in 2007.
"If there was ever any doubt that international courts can deliver judgment, however long it takes, then such misapprehensions have been corrected," says the paper in an editorial.
"For too long, people in positions of power all over the world have been getting away with similar crimes. That will be no more. The era of impunity for is over," it says.
'Message to Mugabe'
In Ivory Coast, several newspapers see the verdict as a warning to ex-President Laurent Gbagbo, who is at The Hague awaiting trial at the ICC on charges of crimes against humanity.
Le Jour Plus, a privately owned newspaper supportive of Ivorian President Alassane Ouattara, comments that Mr Gbagbo is particularly worried by how long he might remain under ICC custody, considering how long Taylor spent there.
Le Patriote, another pro-Ouattara newspaper, says that Mr Gbagbo is likely to meet a "similar fate".
He could have avoided this, Le Patriote says, by admitting defeat in the 2010 elections instead of provoking a stand-off with Ouattara's supporters, which claimed innocent lives and left scores injured.
L'Expression, a privately owned daily, echoes the sentiment - drawing parallels between Taylor and Mr Gbagbo and saying that the verdict has set the former Ivorian president and his backers "panicking".
The Zimbabwe Independent says Taylor's conviction should send an "important message" to President Robert Mugabe.
"Perpetrators of horrendous crimes continue to walk the streets freely and in some cases even enjoy comfy lifestyles after being rewarded with top jobs and perks for work well-done in the killing fields," the privately owned weekly paper says.
"Zimbabwean leaders must take notice, especially those who have been spearheading human rights abuses against innocent people. Time will come - hopefully soon - when you will be held to account."
Writing in Burkina Faso's privately owned, pro-opposition Le Pays newspaper, Seni Dabo regrets that Charles Taylor could not be brought to justice in Africa.
"It's a shame that we need international justice to remind some what they are supposed to know," the article says. "Nothing can justify the rage of a ruler against his own people, from whom, paradoxically, comes his power."
"If these bloodthirsty leaders want to avoid disgrace, they should review their governance while there is still time," Le Pays warns.
BBC Monitoringselects and translates news from radio, television, press, news agencies and the internet from 150 countries in more than 70 languages. It is based in Caversham, UK, and has several bureaux abroad. For more reports from BBC Monitoring, click here