Mali gives military personnel key government posts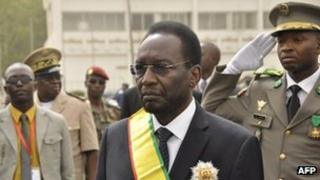 The interim president of Mali has announced a new government, giving key posts to three military personnel.
The military representatives have been appointed ministers for defence, internal security and the interior.
Soldiers ousted the democratically elected government in a coup just over a month ago.
Coup leaders agreed to hand control to an interim president, Diouncounda Traore, who has been tasked with overseeing a timetable for elections.
The deal was struck with the West African regional organisation Ecowas which wants to ensure a return to a democratically elected government.
But the leader of the junta, Capt Amadou Sanogo, has insisted his military committee "will continue to play a supervisory role until new elections are held," Bamako journalist Martin Vogl told the BBC.
Mr Traore and his prime minister, Cheick Modibo Diarra, have appointed 24 ministers in total, none of whom were part of the old government.
It is not known how long they will serve or when elections will take place.
The government's biggest challenge is to resolve the crisis in the north of Mali, where Tuareg and Islamist rebels have seized an area larger than France.
The Malian soldiers who carried out the coup said they did so because the elected government had been incompetent in dealing with the Tuareg rebellion.
But during the power vacuum that ensued the rebels took control of an area they call Azawad.
Mali's former leader who was ousted in the coup, Amadou Toumani Toure, later fled with his family to neighbouring Senegal.
Mr Toure was hailed for ending years of military rule and handing power to civilians after organising elections in 1992. He was later elected to power himself.