Nigeria double attack in Plateau state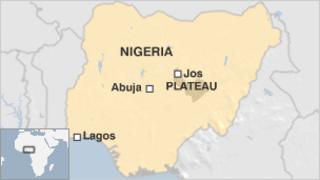 Five people have been killed and 10 injured in two separate attacks in central Nigeria - one targeting football fans, officials have said.
Unknown gunmen shot dead five villagers in an overnight attack on Rim, 50km (30 miles) south of Jos in Plateau state.
Earlier, in Jos city nine people were injured after a blast outside a venue where fans had been watching the Chelsea-Barcelona football match.
Jos has seen a wave of inter-communal conflict and Islamist militant attacks.
Viewing centre
One other person was injured in the attack on the small village of Rim, according to Capt Markus Mdayelyah, the spokesperson for a special task force set up recently to contain the violence in Plateau state.
The explosion in Jos city went off in northern suburb of Tudun Wada, which is a predominantly Christian residential area.
Scores of people were leaving what is known locally as a TV viewing centre at the end of the Champions League semi-final clash - but no-one was killed, police spokesperson Samuel Dabai told the BBC.
The authorities are still investigating the cause of the blast, which injured nine, Mr Dabai said.
The BBC's Ishaq Khalid in Jos says Tuesday night's panic and confusion in Tudun Wada has calmed down and people are trying to go about their business as normal.
Plateau state lies on the fault line between Nigeria's mainly Muslim north and Christian and animist south.
Violence between the two communities has often broken out - especially in Jos, the state capital - and in recent months the Islamist Boko Haram group has attacked several churches.
Boko Haram - whose name means "Western education is forbidden" - wants to establish Islamic law in Nigeria and has launched a series of deadly attacks across the north in the last 19 months.