African viewpoint: The Olympic divide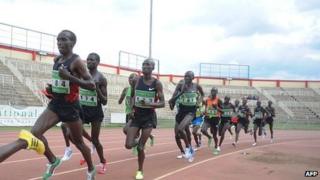 In our series of viewpoints from African journalists, Ugandan writer Joel Kibazo considers whether Africa is interested in this year's Olympic Games due to be held in London.
London, the beloved city where I live has become a divided city.
Yes of course it is already split north and south by the River Thames - a split that can be revealed, for instance, when an invitation to dinner on one side of the river is followed by the line: "Don't worry you won't need a passport", suggesting you're coming to or from a foreign country.
But it is another divide that I speak about, the Olympic divide.
It has been ages since anything split London and Londoners this much:
* They are divided between those for and those against the Games
* Those who cannot wait for the sports fiesta and those who feel it will all be a nightmare for the city
* Those who feel that £9bn ($14.5bn) is too much to spend on the Games especially in these tough economic times versus those who feel nothing is too much to put London in the spotlight
* And not to mention the divide between those who managed to get tickets to the Games and those who applied but did not get a single ticket.
Oh yes, with less than 100 days to go before the Olympic flame is lit in the spanking new stadium, everything including the arguments about the Games have moved up a few gears.
I was particularly taken by the comments of Sebastian Coe.
Speaking to the media last week, the double Olympic English gold medallist of the Moscow and Los Angeles Games - and now London Games supremo - said with incredible confidence: "There has been interest in other Games. But I don't think I've ever witnessed a level of excitement at this level in so many different countries for what we are doing."
Really? Now I have no way of measuring excitement, but where on my beloved African continent is this overwhelming excitement?
Of course the athletes and sports men and women of the continent are training hard and in some cases already measuring by how much they will break the records.
But overwhelming excitement? I just have not felt it yet.
Kony anger
I was in Ghana last week where all the talk was about the biometric registration for the December elections.
On a home visit to Uganda last month, which was the talking point.
In the last few days I have spoken to friends and colleagues in Nigeria, South Africa, Kenya and Ethiopia - they are all into sports, but not one mentioned the Olympics
As so often happens because something is happening in a particular place, frequently in the Western world or to do with the West, it becomes the most important thing and thus we should all see it as the main issue.
This of course speaks to many other things besides sports, including the news agenda.
Often it is not our agenda but that of someone else.
Thus Afghanistan and all its problems and issues remains on the international news agenda, but not the nodding disease which saw further outbreaks early this year in South Sudan, Uganda, and Tanzania.
But back to the London Olympics; what is clear is that there will be no consensus on their staging.
Those onside point to the giant numbers in a bid to impress, 20,000 athletes set to take part, the visitors that will be attracted to London to watch the Games… I just hope that, unlike me, they have tickets.
And perhaps worth mentioning is the regeneration of a large part of east London where most of the events will take place.
Oh yes it will be a party alright. But I remain conflicted, wanting to be a part of the party yet not relishing the even more crowded trains and possible traffic chaos.
Either way, the TV remote will be on hand to ensure I do not miss another record-breaking run from Usain Bolt.
You see, I told you London and Londoners are split about the Olympics and these differences will be the subject of many dinner parties both north and south of the river long after the Olympic caravan has moved on.
If you would like to comment on Joel Kibazo's column, please do so below.