Guide to Nigeria's trouble spots
10 March 2013

From the section

Africa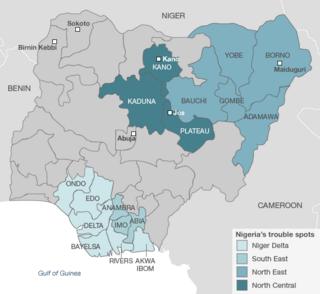 North-western Nigeria, where two foreign hostages have been killed in a failed rescue bid, is not known for kidnappings.
It is a relatively peaceful region, but other areas of Africa's most populous country can be more dangerous.
Here is a guide to Nigeria's trouble hot spots.
North-east: Islamist militancy
In the last 18 months, Islamist militants have terrorised the north-east of the country and killed hundreds of people.
The Boko Haram group - whose name means "Western education is forbidden" - wants to establish Islamic law in Nigeria.
Drive-by motorbike assassinations of politicians and policemen became their modus operandi in their home city of Maiduguri.
These were believed to be in revenge for the death of the leader in police custody in 2009.
But the militants' activities have grown in confidence and scale, spreading to other states in the region.
Last year, Boko Haram carried out suicide attacks on the headquarters of the police and UN in the capital, Abuja.
They are also behind many banks robberies in the region.
Recently, southerners living in the north have been the targets of deadly attacks and thousands have fled their homes.
In early 2012, a new organisation named Ansaru emerged, suspected to be an offshoot of Boko Haram.
The group has been behind several kidnappings of foreign nationals in northern Nigeria, including the seizure and suspected killing of seven foreign workers from a construction site in Bauchi state.
North-central: Ethno-religious clashes, some kidnapping
Plateau and Kaduna states - on the fault line between the mainly Muslim north and Christian and animist south - have witnessed bloody ethnic and religious clashes over the years.
The violence between rival communities often has a political dimension too - and when trouble flares, even one's surname or dress can prove fatal.
In recent times, Boko Haram has also fuelled sectarian tensions in the region by bombing churches in Jos, Plateau's state capital.
Further north, the Islamists have also targeted Kano, the largest city in northern Nigeria.
Nearly 200 people were killed in co-ordinated attacks on police and security headquarters in January.
There have also been some recent high-profile kidnapping incidents in Kano - a German engineer was kidnapped this year and is still being held.
And last year Kano police rescued the father of Chelsea and Nigeria footballer John Mikel Obi, who had been captured in Jos.
Niger Delta: Oil theft, kidnapping, piracy
It is the oil-rich south of Nigeria that is renowned for its kidnappings for ransom - especially of expatriate oil workers.
But since the 2009 amnesty for militants - those behind much of the extortion - there has been a dramatic decline in abductions.
Correspondents say this may also be because there are fewer foreigners prepared to brave it to the lawless and under-developed region - and those that do have bodyguards.
However, former militants, complaining that they are not receiving their monthly subs from the government, are starting to regroup.
There have been some more attacks on oil facilities recently and the stealing of oil from pipelines - a process known as "bunkering" - continues.
Pirates are now the main worry for most residents of the region's creeks, where boats are the best way to travel.
They are often held up and robbed and increasingly the armed men take to the high seas to hijack big ships Somali-style, with attacks becoming increasingly violent.
In fact, the Gulf of Guinea is now placed by maritime insurers in the same risk category as Somalia.
South-east: Kidnapping
Abia state used to be known as the kidnapping capital of Nigeria - families of politicians and businessmen were targeted on what seemed like an industrial scale.
But since the military killed the man thought to the head of the kidnappers in December 2010 the incidents have fallen - though anyone of any strategic importance now has bodyguards.
Imo and Anambra states do still have isolated cases of kidnapping, but like in Abia, the situation has improved.
Inter-state travel
This year, the ubiquitous police checkpoints on Nigeria's main inter-state roads have been disbanded.
The new police chief said the officers only ever extorted bribes and did not improve security.
Motorists have welcomed the move, but armed highway robberies are on the increase throughout the country.