Nigeria violence: Deadly gun attack on bar in Yobe
11 January 2012

From the section

Africa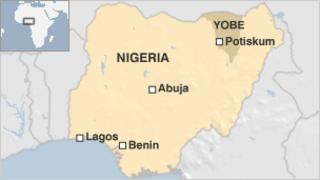 Gunmen in Nigeria have opened fire in a bar in the north of the country, killing eight people including several police officers.
The attack in Yobe state is the latest in a series that officials blame on the Islamist militant group, Boko Haram.
Earlier, at least five people died when a mosque and Islamic school were set alight in Benin city, in the mainly Christian south.
Muslims have been fleeing the city for the mainly Islamic north.
Religious tensions have been growing as a general strike over rising petrol prices continues to grip the country.
"Suspected Islamic sect members attacked the drinking joint and killed eight people, four of whom were policemen," Yobe state police commissioner Tanko Lawal told Reuters news agency.
Reports said the gunmen fled on a motorcycle after the late-night attack in the town of Potiskum. A seven-year-old child was also among the victims, police said.
Southerners, who are mostly Christians or animists, have recently been the targets of attacks by Boko Haram, which operates in the mainly Muslim north.
Yobe is one of the states where the government has declared a state of emergency following an upsurge in violence by the Islamist group.
'Growing concern'
The shooting followed an attack on a mosque and an Islamic school in the southern city of Benin.
Five people were killed and six injured, a Nigerian Red Cross spokesman told the BBC.
UN chief Ban Ki-moon discussed the increasing sectarian violence with Nigeria's Foreign Minister Olugbenga Ashiru on Tuesday.
The meeting followed the release of a UN report that highlighted "growing concern in the region" about possible links between Boko Haram and al-Qaeda's affiliate in North Africa, al-Qaeda in the Islamic Maghreb (Aqim).
Meanwhile, tens of thousands of people have taken to the streets in many cities to protest against the doubling of the price of petrol since the beginning of the year.
The removal of a fuel subsidy has caused widespread anger.
Witnesses said Tuesday's protests were bigger than Monday's in Lagos, Nigeria's largest city, and in the capital Abuja.
Six people died in the unrest on Monday.