Nigeria unrest: Mosque attacked in Benin City
10 January 2012

From the section

Africa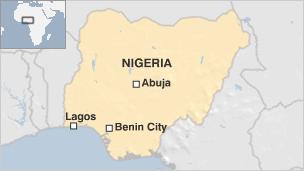 A mosque and Islamic school have been attacked and set alight in the southern Nigerian city of Benin, police say.
A Nigerian Red Cross spokesman told the BBC that five people had been killed and six injured.
It follows a separate attack on a different mosque in the city on Monday.
In recent weeks, southerners, who are mostly Christians or animists, have been the targets of deadly attacks by the Islamist Boko Haram group, which operates in the mainly Muslim north.
A leader of the Hausa community in Benin told the BBC's Hausa Service that 7,000 northerners were seeking refuge in police and army barracks in the city.
The Nigerian Red Cross confirmed to the BBC that they were registering northerners at police stations and army barracks.
Spiral of violence
Two cars at the centre housing the mosque and Islamic school were also torched, police said.
The attack is the latest in a spiral of sectarian violence that has seen many southerners living in the north flee their homes.
The BBC's Naziru Mikailu in Abuja, Nigeria's capital, said the latest violence started in Benin on Monday when a group attacked a mosque, leaving 10 people injured.
Then, in Gusau, capital of northern Zamfara state, youths attacked a church. Police made 19 arrests, our reporter says.
Back in Benin on Tuesday, a mosque and Islamic centre were attacked and set alight in a different area from Monday's attack. Police told the BBC that 10 people had been arrested.
A group of youths tried to attack a Hausa community leader's house but it was defended by Hausa youths and the police then intervened, our reporter says.
Nigerian writer and Nobel laureate Wole Soyinka blamed the violence of recent months on leaders who put their own religion above national unity. He said the situation was not dissimilar to the one that existed before the last civil war that erupted in Biafra in the 1960s.
"We see the nation heading towards civil war. We know that the civil war was preceded by problems - serious killings on both sides of the regional divide," he told the BBC.
"When you get a situation when a bunch of people can go into a place of worship and open fire through the windows you've reached a certain dismal watershed in the life of that nation.
"There's no question at all, whatsoever. Those who have created this faceless army have lost control of that army."
The latest unrest comes on the second day of a general strike over the removal of a fuel subsidy.
Thousands of people have taken to the streets in many cities in protest about the doubling of the price of petrol since the beginning of the year. Six people died in the unrest on Monday.