DR Congo election: Joseph Kabila ahead of Tshisekedi
6 December 2011

From the section

Africa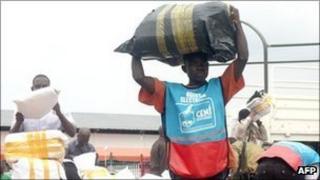 President Joseph Kabila is leading Democratic Republic of Congo's election with 46% of the vote, results show.
With more than two-thirds of votes counted, his closest challenger, Etienne Tshisekedi, trails on 36%, the election commission says.
Truckloads of riot police are patrolling the main cities in case of violence, with full results due on Tuesday, amid claims of fraud.
Some 3,000 people fled the capital, Kinshasa, at the weekend.
Last Monday's polls were the second since the 1998-2003 war officially ended, following the loss of some four million lives. Armed groups continue to operate in eastern parts of this vast country, which is two-thirds the size of Western Europe.
The BBC's Thomas Hubert in Kinshasa says Mr Tshisekedi's supporters insist that he has won and are unlikely to accept defeat in polls marred by allegations of rigging, including pre-marked ballots.
The constitutional mandate of Mr Kabila, 40, to rule ends on Tuesday and the opposition said it would not recognise his authority thereafter, our reporter says.
Congolese abroad protest
However, the head of the election commission said that Tuesday's deadline to announce full results might not be met.
"First of all we're going to make sure that all the results sheets have arrived and that we have all the information. If not, we won't be able to give you more than a partial report," said Daniel Ngoy Mulunda.
A senior official close to Mr Kabila has warned that the army could be deployed if the "situation becomes too chaotic for the police".
"We cannot let chaos prevail," Kikaya Bin Karubi, DR Congo's ambassador to the UK is quoted by Reuters news agency as saying.
Police fired tear gas at opposition supporters in the capital on Monday, and gunfire rang out in a city in West Kasai province, both seen as opposition strongholds, after the government shut down a television and radio broadcaster, Reuters news agency reports.
There was more violence on Tuesday morning outside Mr Tshisekedi's home in Kinshasa and the headquarters of his Union for Democracy and Social Progress (UDPS) party, our reporter says.
Mr Tshisekedi's supporters are protesting in central London, to demand that he be declared the winner.
They staged similar demonstrations in South Africa, the main regional power, and Belgium, the former colonial power, on Monday.
The protesters tried to storm the DR Congo embassy in Pretoria, forcing police to fire tear gas, the AFP news agency reports.
The protesters accused South Africa's President Jacob Zuma of helping to organise fraudulent elections in DR Congo and said he should stay out of DR Congo's affairs.
In Brussels, police fired water cannons to disperse protesters.
On Thursday, the UDPS declared Mr Tshisekedi the winner and called for arrangements to be made for a transfer of power.
Mr Tshisekedi, 78, campaigned for democracy under former ruler Mobutu Sese Seko but this is the first time he has contested elections.
He boycotted the 2006 election, claiming it had been rigged in advance.
Several thousand residents of Kinshasa crossed the River Congo to neighbouring Congo-Brazzaville at the weekend as fear grew that violence could escalate, correspondents say.
Many foreign nationals have also fled the country, they say.
The International Crisis Group has put DR Congo on its "conflict risk alert" list.
Last week, four other opposition candidates - including Vital Kamerhe, a former ally of Mr Kabila - called for the polls to be annulled, alleging they had been marred by widespread rigging and violence.
Observers from the African Union (AU), the Southern African Development Community (SADC) and three other groups have said the polls had been successful and called on all sides to show restraint.
The government warned that it would not tolerate further conflict.
Guards loyal to Mr Kabila shot opposition protesters, killing 14, ahead of the election, Human Rights Watch said - claims dismissed by the government.
HRW said at least four more people were killed during the poll.
The election was marred by widespread logistical problems, as well as the violence, and polling in some areas was extended until Thursday to allow voting material to be delivered.
The biggest country in sub-Saharan Africa has hardly any road or rail links between its major cities, so the UN peacekeeping mission distributed some election equipment by helicopter.
The 2006 election was marred by weeks of street battles led by supporters of the losing candidate, Jean-Pierre Bemba.
He is now on trial at the International Criminal Court for alleged war crimes committed in Central African Republic.