Nigeria election: Buhari's CPC fails to nullify result
1 November 2011

From the section

Africa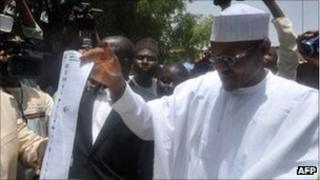 A tribunal in Nigeria has rejected an attempt by the opposition to declare President Goodluck Jonathan's victory in April's election fraudulent.
The result triggered violence in northern strongholds of defeated opposition candidate Muhammadu Buhari after he rejected the result.
But the judge said Mr Jonathan won the election lawfully.
Mr Jonathan, a southerner, obtained 59% of the vote, while Mr Buhari got 32%.
In May, Mr Buhari's Congress for Progressive Change (CPC) party filed a petition with the presidential election tribunal to nullify the result.
"The petition fails in its entirety and is hereby dismissed," tribunal head Justice Kumai Akaahs said.
"The third respondent [Jonathan] scored the majority lawful votes cast at the election."
'Most credible poll'
The CPC said it would appeal against the ruling.
CPC supporters unleashed violence after the election, claiming the result had been rigged.
An estimated 500 people were killed, thousands of people forced from their homes and some mosques and churches set on fire.
Mr Buhari distanced himself from the violence.
Most observers had hailed the election as the most credible since military rule ended in Nigeria in 1999.
Mr Buhari, a former military ruler, has said he was cheated of victory in two previous elections.
Mr Jonathan was appointed to the presidency last year upon the death of incumbent Umaru Yar'Adua, a northerner whom he had served as vice-president.
Many in the north felt the next president should have been from their region, as Mr Yar'Adua died before he could finish his term.
Mr Buhari won most of the mainly Muslim northern states but nationwide only gained half as many votes as President Jonathan.
Analysts say the violence has more to do with poverty and economic marginalisation in the north than religion.
The north and south also have cultural, ethnic and linguistic differences.