Libya: The challenges ahead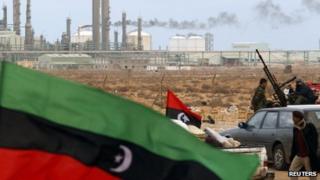 The death of Libya's ousted leader Muammar Gaddafi has been greeted with jubilation by many Libyans, who felt the country could not move on while he remained at large.
But meeting their expectations - after an eight-month civil war and a 42-year dictatorship - will be difficult for the fledgling National Transition Council, a disparate movement formed during the conflict.
It not only has to repair the infrastructure destroyed in the war, but prepare a divided country for the novelty of holding multiparty elections.
Here is a guide to some of the challenges ahead:
Security
In the aftermath of the war, the country is awash with guns - arguably all of Libya is armed. So collecting these weapons needs to begin immediately.
The BBC's Rana Jawad in the capital says Tripoli is now relatively secure but there is a persistent problem of armed people arriving from different parts of the country trying to move into empty homes that once belonged to Gaddafi loyalists.
She says re-activating the police force rather than relying on the various brigades that sprung up during the war to secure cities or towns would help prevent this - and rivalries between these different outfits.
NTC executive board head Mahmoud Jibril recently suggested the creation of local security companies to absorb fighters unwilling to disarm - many were unemployed before the war.
For Libya's long-term security rebuilding a national army - uniting all the brigades - will be an important but tough challenge.
For neighbouring countries and the Nato-led allies, the disappearance of heavy Gaddafi-era weaponry, will be of great concern.
"The only thing that can be said with certainty at this juncture is that Libya is going to be one big arms bazaar for the foreseeable future," AP quotes risk consultant Geoff D Porter as saying.
Much of the money in a new $11m US aid package announced this week will go towards finding and destroying thousands of unaccounted for shoulder-fired surface-to-air missiles.
Oil
Getting the oil pumping again will be crucial for the economy and vital for rebuilding infrastructure destroyed in the war.
This means disarming the militias roaming in remote desert areas and an end to Nato bombing, which made it too dangerous to transport oil along roads to the coast.
Libya produced about 1.6m barrels of oil a day before the conflict. Libya's oil chief Nouri Berouin told Reuters daily output had now risen to 430,000 barrels with some oil fields reopening recently.
But many, including two oil fields that used to account for a quarter of overall output, remain abandoned.
For the foreign operators who return to start the immediate task of restoring oil sites looted and destroyed in the fighting, political and tribal rivalries are bound to be a worry in the future.
And while staff directly employed by the oil firms may agree to return with a private security guarantee, it may not be so easy to attract the hundreds of thousands of foreign support workers who fled during the conflict.
Many of those from West Africa have faced attacks and harassment from the anti-Gaddafi fighters who accused them of being mercenaries - they may be loath to return to work under a regime they consider racist.
Electricity, water and food
Fixing every day utilities damaged in the fighting is already under way. There had been regular power cuts in many cities, but since Tripoli fell in August electricity has become more stable and no major outages reported.
But the country's largest oil refinery, at Ras Lanuf, is likely to remain out of action until the end of the year, meaning fuel prices will continue to be high.
Food prices are beginning to slide - they soared during the last month before Tripoli fell. Libya imports most of its food but with the Nato naval blockade now lifted, shops and supermarkets appear to be well-stocked in the capital.
In the last week, the power lines connected to a man-made river in the south, which feeds water supplies to Tripoli, was hit by Gaddafi loyalists. Water was cut off from many parts of capital, however it has started to return to normal again.
The situation elsewhere - especially in areas badly damaged in the battles - is less certain.
Schools and hospitals
Not all schools have reopened but those that have are focusing on reconciliation as many children whose parents were Gaddafi supporters are wary of returning to class.
The new academic year begins in January, which will give those who have missed out on nearly a whole year of education a chance to catch up and retake end of year exams.
This is when the curriculum will also be introduced - the special mandatory course on Gaddafi's Green Book, his political and social philosophy, will be dropped.
History books that never included teaching the pre-Gaddafi era under the monarchy of King Idriss will also be revised as will the legacy of the colonel who has only ever been shown in a positive light.
Shortages of medical supplies have eased in Tripoli, but there have been reports that hospitals elsewhere are still battling to cope, with Sirte and Bani Walid - which have experienced the most recent fighting - acutely affected.
Reconciliation and politics
Justice versus reconciliation will be a key challenge for Libya's new authorities.
The killing of the colonel will do little to encourage Gaddafi loyalists of the NTC's ability to ensure a path of national healing.
Col Gaddafi's son, Saif al-Islam, and his intelligence chief Abdullah al-Sanussi, whose whereabouts remain a mystery, are still wanted on war crimes charges by the International Criminal Court.
It is not clear whether a South African-style truth and reconciliation commission will be set up or an amnesty offered to pro-Gaddafi fighters and the colonel's relatives who have sought refuge in Algeria and Niger.
But the NTC has set out a transition timeline to democratic elections, expected in 2013.
Like in neighbouring Tunisia, a body will first be elected to oversee the writing of a new constitution.
Yet unlike its neighbours, Libya has never had any system of elections, even the charades held in pre-revolutionary Tunisia and Egypt, so building these electoral bodies and institutions from scratch in the time set out will be difficult.
Choosing a new system will also throw up the regional debate about secular versus Islamist politics - something that will no doubt worry Western oil investors.