Ex-Libyan PM al-Baghdadi al-Mahmoudi freed in Tunisia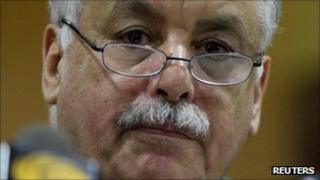 Former Libyan Prime Minister al-Baghdadi al-Mahmoudi has been freed by a Tunisian court after being jailed for illegally entering the country.
He had been sentenced to six months in prison last week, but an appeals court overturned his conviction.
Mr Mahmoudi served as prime minister until Col Muammar Gaddafi was ousted last month.
There have been no requests from the Libyan authorities to extradite him, the Tunisian justice ministry has said.
Mr Mahmoudi was arrested in Tamaghza, southern Tunisia - near the country's border with Algeria - along with two other people.
They were identified as his nephew Karim al-Mahmoudi and Fethi Hamel, a Libyan car dealer.
He was charged with illegal entry after being found without a visa as he was allegedly trying to flee across the border to Algeria.
Mr Mahmoudi's defence argued he had not broken any Tunisian laws and that his passport had been stamped appropriately upon entering the country, one of his lawyers said.